Apple Music Doesn't Care About Playlists
Happy day to y'all. This week's newsletter jumps around a little bit so I'll keep this introduction brief. I'm keeping my promise of examining the Apple Music interface and included a little update on Spotify's personalized playlists. Last note is that people keep sending tips or weird trends my way, which my only feedback is don't stop! All of that is much appreciated, thank you.
---
A couple weeks ago I dove into the Spotify and YouTube Music app interfaces and this week continues with Apple Music. Just to put my bias upfront: I pay for Apple Music and I think it aligns most closely with my own music consumption habits but I think that'll quickly make sense.
Let's go to the Apple Music's Browse screen: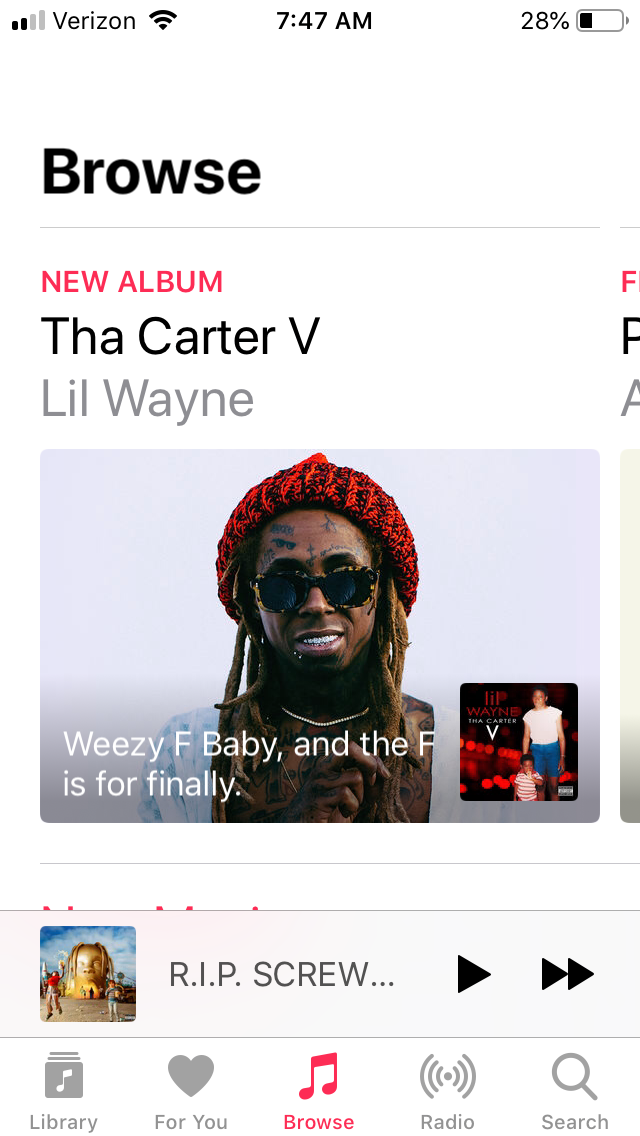 The entire screen is filled to promote Lil Wayne's Tha Carter V. It's hard to imagine a better advertisement space for an artist than taking up an entire screen on music app used by tens of millions of people. There is no endless playlist scroll or endless feed of songs, instead Apple treats their app space like a billboard ready to promote whoever needs it for the week.
When I swiped to the left there were advertisements for Apple Music's "Pure Motivation" playlist, Logic's latest album YSIV, an exclusive live video from Christine and the Queens, Kevin Gates' latest album Luca Brasi 3, and even DJ Snake's latest single "Taki Taki" with pop superstars Ozuna, Cardi B, and Selena Gomez. What I note here is how Apple Music presents all of these different forms of music as equal consumer options. Maybe you'd like to sit down for an album, or perhaps catch-up on a new single, or see what kind of exclusive videos are being offered. The phrase that comes to mind is "curation" and not personal optimized curation but rather selections that comes from the top down and is practically yelling at the consumer to focus in on these products.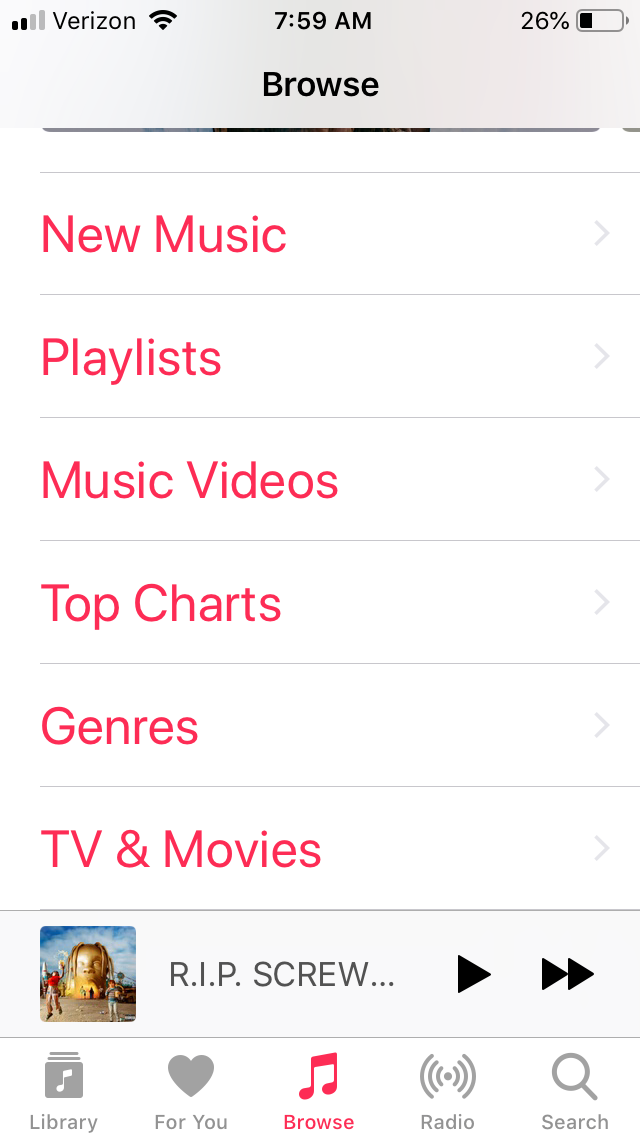 Now if you scroll down there are tabs for: New Music, Playlists, Music Videos, Top Charts, Genres, TV & Movies. I won't dive into all of these tabs but to keep on the topic of curation I'll click New Music.
This look familiar doesn't it? Yep the New Music tab follows initial format of the Browse tab. The top features new albums, exclusive interviews, and singles, right below are Apple Music's in-house playlists, then interestingly is a playlist of music videos, followed by "Hot Tracks" which is a mix of new releases and other tracks that someone somewhere hopes to become popular.
Below are "New Releases" that covers the latest album released and below that is a simple Videos section that is a feed of new music videos. The most interesting part of this tab is the relatively added "Coming Soon" tab that right now features advertisements for Kane Brown, Twenty One Pilots, Eric Church, the 1975, and others.
I don't know how many people actually scroll down to the bottom of this particular tab—I'd wager not many—still in comparison to Spotify's app, Apple Music is informing its consumers not only of these different options of music consumption but also to build anticipation for upcoming releases. I was speaking to someone earlier this week about how major label friendly Apple Music's approach is with its app. Apple is constantly just offering up large chunks of the screen for advertising specific pieces of content rather that getting lost in an undefined playlist. The Apple Music app is a digital record store, not radio, even if it never presents itself as such. There are options for lean back listening but that isn't Apple's core goal. Now let's hop to an artist page.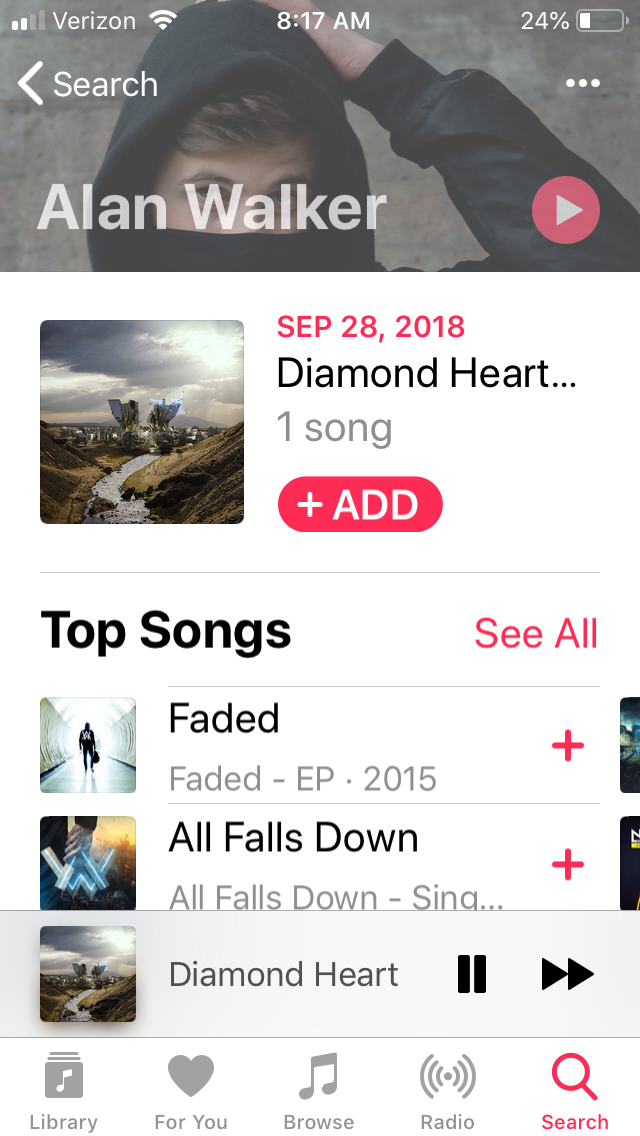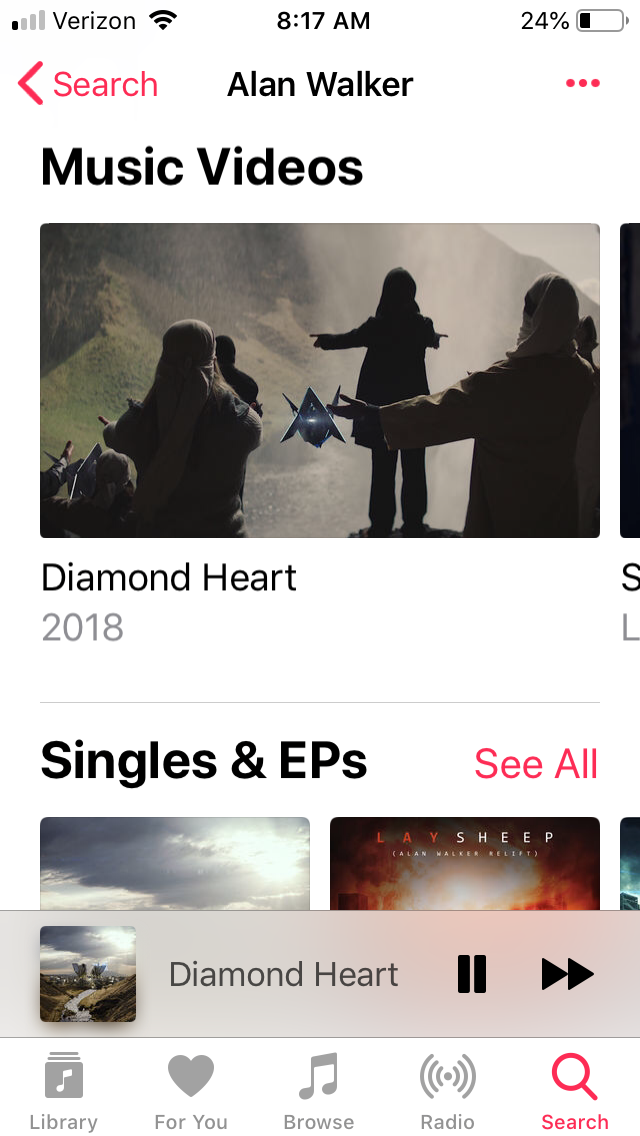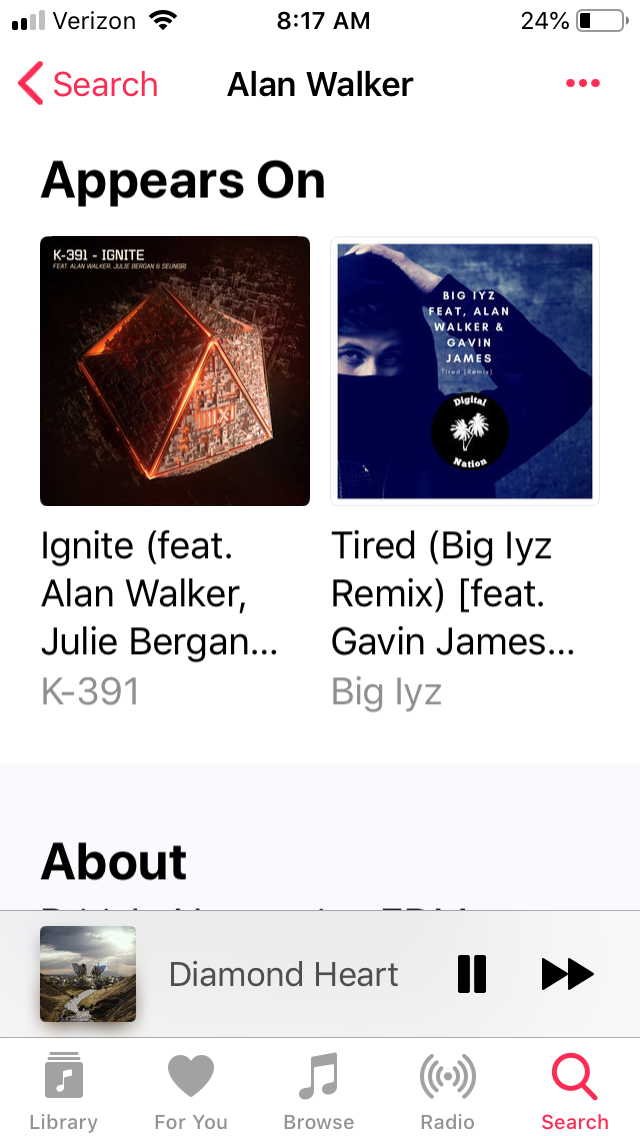 Apple Music recently picked up on a Spotify feature of allowing artists to promote a specific song or playlist on their page. On Spotify this is a #rare space for an artist or label to communicate directly with fans and so I get Apple Music offering the functionality. What follows on the screen is fairly new. There is the usual Top Songs and Music Video but right below are tabs Singles & EPs, Appears On, and though Alan Walker doesn't have them there are tabs for Live Albums and Compilations that can appear.
The new addition of this more granular ways of talking about music releases raised an eyebrow to me. The reason is that apps like SoundCloud, Spotify, or YouTube Music offer no separation between those types of releases and in a way almost intentionally flattens them to all be the same. Thus Apple Music's shift to an even more fine categorization of these release types shows an app built for people who might actually care to find an artist's live albums catalog.
Apple Music app makes a small assumption that Spotify never makes: Music fans already know what they want. Spotify's app is designed for the indecisive consumer that doesn't know what they want until they hear it. Apple is for people who know the the latest releases, anticipate upcoming projects, and engage with the music as the artist intended—see artists increasingly writing their own album copy. Different segments of the music industry will need to cater to various markets; still streaming first music fans can trust Apple's lead, because its giving them music in a language they already understand.
An Update on Spotify Personalized Playlists
Last week I reported for Music Business Worldwide about Spotify subtly adding personalization to some of their biggest playlists. Though Spotify said labels were informed of this matter, judging based on feedback I got last week not everyone was cc'd on those emails. Chartmetric, the music analytics site, took it upon themselves to try and highlight what playlists right now are seeing the experimentation. I've reprinted the list below and certainly do reach out if you notice any more examples:
00s Rock Anthems
All Out 70s
All Out 80s
All Out 90s
All Out 00s
Autumn Acoustic
Baladas Romanticas
Brain Food
Broken Heart
Cardio
Confidence Boost
Dance Party
Deep Focus
Feelin' Good
Good Vibes
Happy Hits
Have a Great Day!
It's A Hit!
Love Pop
Motivation Mix
Mood Booster
Power Workout
Rock Anthems
Roots Rising
Songs to Sing in the Car
Songs to Sing in the Shower
Workout
6 Links 2 Read
Unfree Agents - The Baffler
Liz Pelly notes the similar rhetoric used by both Spotify and Uber in how they talk about those who are doing the labor to power their services. Pelly interrogates who holds power in these situations and the lie of choice and freedom for these workers, when the material reality leaves them being massively exploited.
Next Big Sound Brings Pandora Data to Light - Next Big Sound
Did you ever want to get more data insights from Pandora / Next Big Sound? Well happy days for you. The now SiriusXM owned company is offering that. Further investigation of the numbers is needed to see how truly useful this is but the idea of more transparency is one typically worth applauding.
Amazon's Aggressive Anti-Union Tactics Revealed in Leaked 45-Minute Video - Gizmodo
This technically isn't about music streaming but Amazon is increasingly gaining a bigger foothold into the music streaming space and so them sending out anti-union propaganda is now music streaming news! Even though activist and union organizers were able to squeeze a $15 minimum wage outta Amazon just imagine what they'll do to the music industry with enough power.
YouTube Gaming's shutdown could be an attempt to one-up Twitch - Digiday
That YouTube Gaming is closing down isn't surprising...cause you know everyone can't be Facebook and merciless rip-off a product and find success. Still what Digiday notes is that even if YouTube Gaming is ended many of its features including direct payment of creators simply got folded into YouTube's regular feature set, which is the more important take away. That what YouTube Gaming offered should've just been offered to all, not some, YouTube creators.
'Tha Carter V' Holds the Top 16 Slots on Spotify's Top 50 Chart - Complex
This isn't an novel story, because this happens nearly every week a major album is released. Yet I must chuckle that for all the chatter about the death of the album format every week we're given proof the main way fans consume music is through this decades old format.
Warner and Sony Buy $200M of Shares in Tencent Music Entertainment Ahead of Streaming Company's US IPO - Music Business Worldwide
This headline almost speaks for itself but I do want to just say that the eventual global battle in the music streaming space just makes me even more convinced that SiriusXM's purchase of Pandora is just the first domino in what will be endless media consolidation. Get excited!
The Penny Fractions newsletter arrives every Wednesday morning (EST). There is an additional $3 a month newsletter (Dollar Fractions) that'll arrive every Friday morning (EST) if you'd like to subscribe. The Penny Fractions artwork was done by graphic designer Kurt Woerpel whose work can be found here. Any comments or concerns can be sent to pennyfractions@gmail.com. Also please print out and staple this newsletter into any break room for college professors that are interested in weekly thousand word screeds about music and technology.