Can't Stop, Won't Stop: Music Catalogs Sales in 2023
Hello, readers! Thank you so much for the kind words since my layoff from SoundCloud. I'm right now looking for government or union work in New York City, so if you happened to know of any opportunities or folks I should talk to, it'd be much appreciated. I'm open to consulting projects in music, if it's a good fit. For the newsletter, I'm taking the month of July off, so today is the last newsletter till August 9th. If you do enjoy my work def recommend it to a friend. I built up a nice back catalog to read and if you'd like to subscribe you can do that here. Now, let's talk about the health of music catalog sales.
---
Last summer, I gleefully wrote: 'Is the Music Catalog Sales Boom Over?'. Less than a year later, Music Business Worldwide wrote: 'Is the Slowdown in Big-Money Music Catalog Deals Officially Over?'. The piece pulled together a number of promising rumors and cited increased deal headlines for their thesis. I've followed this trend over the years and maintained a healthy database for these deals. That's given me a good amount of insight into the legitimacy of these kinds of proclamations, which is why it's easy to now admit I was wrong, as deals firmly picked back up over the winter and spring. So, before I turn my interest towards why, let's understand just how much activity returns to the space of financialized music catalog sales.
The origins of music catalog sales by financial firms can be traced back to the early 00s but really got started in earnest around the global financial crisis. However, the contemporary moment really accelerated in 2019. The pandemic-led growth made it easy to spot the sudden drop off in publicly announced deals in March of 2022. This aligned with the Federal Reserve increasing interest rates in the United States, which helped crater the crypto market and technology firms' valuations. However, similar to those assets, 2023 is returning back to a pre-2022 trendline with sales in Q1 2023 sitting at 42, only four less than Q1 2022 (8.7%), where Q4 2022 vs. Q4 2021 saw a drop of 11 deals (36.7%). Also, taken as a whole 10 more deals occurred in 2022 compared to 2021; sales growth slowed but didn't reverse. 2023 may remain on a trajectory of slowing growth but that's growth nonetheless. Now let's look at the money raised.

The information around money raised is always a bit tricker but still, it's clear 2022 saw less activity than 2021, with a nearly $3 billion difference in the years. Less than a billion dollars was announced to be raised in Q2 and Q3 of 2022, a notable drop since 2020 the average amount raised per quarter was over a billion. Yet, that came to an end in the last two quarters as over $4 billion has been raised for catalogs. So, even if the amount of money being raised is on the decline, it's the makeup of the firms doing this work that may help explain the current market.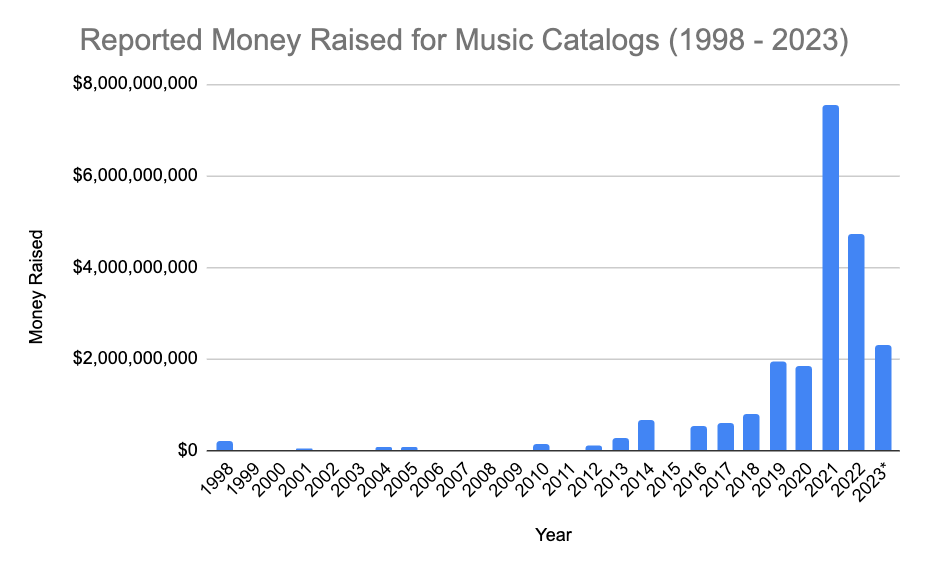 Billboard earlier this month directly answered my question on the health of the catalog sales business: 'Niche-Focused Funds Are the Next 'Natural Step' in Music Investment'. The story highlighted the number of more niche music funds that have popped up since 2021 and pulled quotes that suggest the diversification is tied to increased interest rates and a desire to find potentially undervalued catalogs (EDM?, Latin? Asia?), with many bigger catalogs already snatched up. The over $2.3 billion raised in announced deals so far in 2023 does show a maturity in the market, where investors weren't too quick to run away from the asset class. (An assumption I thought might be the case twelve months ago.) That speaks to the increased diversity of firms operating in this space, which is allowing it to spread in breadth. This is why more headlines feature deals done across Europe, South Korea, and Latin America. This can sound positive, but raising hundreds of millions of dollars in 2023 for tv and film score catalogs may be less thrilling, and revenue-generating, than owning major pop hits.
The lingering uncertainty of the business model cropped up its head since last summer. Hipgnosis Songs Fund and Round Hill Royalty Fund Limited are both public on the London Stock Exchange and have seen their stock prices dip and wobble the last year. Round Hill's latest financial report showed an increase in revenue and a profit of half a million dollars, which is better than the $2.5 million loss in 2021. Yet, those thin profit margins alongside the high cost of capital make the underwater stock price make a bit more sense. Hipgnosis received its share of attention last year as it appeared Blackstone wasn't quite as keen on the music catalog space as the company might've been only eighteen months prior. Even Reservoir Media, which operates a bit closer to a traditional publisher, but got caught up in the catalog business and went public via SPAC in early 2021, hasn't sniffed its initial $10 listing price in well over a year. The deals haven't stopped but investor confidence in the space cannot be said to be robust.
The other parallel bit of news are these stories where catalogs enter the market, only to be pulled back once its clear the pandemic mania for this asset class did indeed end. Warner Bros. Discovery was looking to sell its catalog but saw the market wasn't interested in the premium it sought out; Pink Floyd walked back their attempt after months of trying and didn't produce a workable offer. Deals aren't over but the investment story subtly shifted from a boom period of riding streaming strength to now searching for niches within more unproven markets. Time will tell how these investments shake out but the quantity and number of players in this space will certainly keep this a part of the music industry worth keeping a close eye towards it.
Unheard Labor
The Musicians' Union in the United Kingdom appears to be at a negotiation standstill with the BPI, the British record label trade body, overpaying session musicians royalties for streamed tracks. The BPI appears wholly uninterested in the ask, so their previous contract ended on May 31st with no agreement reached. Back in the United States, Sonos, the speaker company, announced 7% cuts citing decreased speaker demand, not a huge shocker as we continue to ease out of the pandemic home goods boom.
The WGA remains on strike. The Directors Guild reached a tentative deal with a member vote due on Friday; meanwhile, it's being floated that SAG-AFTRA may extend their contract negotiations as things get closer to the wire.  Last, I wanted to mention the Teamsters voted on a strike authorization at 97%, which will only add to the pressure to avoid a potential UPS strike on August 1st. (If this comes to fruition, it'll potentially be the largest strike in American history.) Just wanted to put it on folk's radar. Either way, a number of updates to see when I get back in August.
Government Tunes
SM Entertainment, one of Korea's largest record labels, received an antitrust complaint filed by members of the group EXO, over the length of their contracts that they say extends beyond the seven years approved by the Fair Trade Commission. Earlier this week, it was reported an undisclosed agreement was reached over the legal matter, certainly good news for SM. Especially following the skirmish between Hybe and Kakao over the company, and the allegations of stock manipulation by Kakao in their deal.
The scrutiny over ticketing continues in the United States. Live Nation, SeatGeek, and others agreed to start displaying "junk fees" to provide more transparency for consumers. This won't decrease the price of said tickets but considering the number of bills being discussed at the state and national level, alongside thoughts to simply break up Live Nation and Ticketmaster; the political battle is far from over.
A Note of Financialization
CTM Outlander, which raised a billion dollars only a couple of years ago, picked up the catalog of the songwriter Shane McAnally, and additional works by the songwriters: Josh Osbourne, Matt McGinn; and Matthew Ramsey, and Trevor Rosen from the band Old Dominion. Peermusic, the longtime publisher of country legend Earl Scrugg, picked up the singer and the majority of his son's catalog. Seeker Music nabbed the publishing for the British duo Future Cut; Anthem Entertainment announced a new deal with Timbaland that included publishing interest in his catalog; lastly, BMG got the recording catalog of the classic rock band the Hollies. UMG is also looking to offer nearly $800 million in bonds to pay back debt, which if someone reading this holds deeper knowledge of corporate debt, I have questions!
6 Links 2 Read
Spotify Takes a Sharp Turn With Its $1 Billion Podcast Division - Bloomberg (Subscription)
Spotify's podcast ambitions never made sense. I've held fair firm in that belief since their purchases of Gimlet and Anchor back in 2019 for hundreds of millions of dollars. The company's sudden reversal of course to implement layoffs and scaling back podcast spend is fairly unsurprising, though I still feel for all the workers (like myself) hit by these corporate changes.
Carving up, or growing the pie? - Music Business Worldwide
Annabella Coldrick, CEO of the Music Managers Forum in the UK, wrote an op-ed questioning major labels' motivations for wanting a more "artist-centric" model. Her main concern is that according to a 2022 Competition and Market Authority study, major labels were already netting more per-stream than their independent or self-releasing peers. Coldrick's less politically contentious suggestion was a focus on increased revenues, rather than getting bogged down in how it's split. However, it'd appear growing the pie may still only further the gap in how much major labels dominate streaming revenues.
Fan Powered Royalties with Michael Pelczynski - Music Tectonics
My former boss, and one of the smartest minds in music, joined the Music Tectonics podcast to chat about some of the cool work that's been done with fan-powered royalties and other initiatives at SoundCloud. So, if you were curious about some of the work I was doing at the company, listen to the show and imagine behind every smart idea Mike says, there was me with a giant foam finger cheering him on in conference rooms and Zoom calls.
Music Publishers Sue Twitter for $250m+ Alleging 'Rampant Infringement of Copyrighted Music' - Music Business Worldwide
Twitter, the company that refuses to pay office bills, will certainly avoid paying any copyright holders, thus the lawsuits emerging.
K-Pop Merger Mania (feat. the Idolcast) - Money 4 Nothing
Kara, from Idolcast, joins Money 4 Nothing to give a brief history of SM Entertainment, and how an activist investor pushed the entire K-Pop industry into a Succession-like drama over the last year. Even if the battle is pitched between differing entertainment firms; Kara pointed out that the trajectory of further fan and IP exploitation is a mutually shared business vision.
Fallen Star Schofield's Talent Agency YMU in Crunch Finance Talks - Sky News
A talent agency that swapped between private equity firms over the last decade is experiencing financial hardship…shock! Still, Trilantic Capital Partners did spend $140 million only five years ago for the James Grant Group, so I'm curious just how major an impact the pandemic was for the company if matters are allegedly so dire.