Deezer and Spotify Race to Dubai
Hello, hello! This week I'm covering the recent news of Deezer and Spotify expanding into the Middle East and North Africa. I didn't just want to center on western services, so I hoped to shed a little light on lesser known streaming platforms at the same time. One note, don't worry I saw the news of Spotify ramping up to enter India. I already planned next week's newsletter to be on India, so stay tuned for that. Anyway on with the show!
---
Last month, Deezer announced an exclusive partnership with Rotana Records, the world's largest Arabic record label, to bring the company music to the following places: "Algeria, Bahrain, Egypt, Jordan, Kuwai, Lebanon, Mauritania, Morocco, Oman, Qatar, Saudi Arabia, Tunisia and the United Arab Emirates, as well as other selected countries." Billboard also reported Hans-Holger Albrecht, Deezer's CEO, said the company was also looking to open a headquarters in Dubai to go along with the increased expansion in the region.
Now Spotify didn't want to be left out of the conversation, so it pressed a few emails about plans for this region of the world. The company announced it would be available in: Algeria, Bahrain, Egypt, Jordan, Kuwait, Lebanon, Morocco, Oman, the Palestinian Territories, Qatar, Saudi Arabia, Tunisia, and the United Arab Emirates. Music Ally on the same day got to speak with Claudius Boller and Michael Krause, two of Spotify's directors in the region, and a couple points stuck out to me.
The pair dodged a question around Deezer's recently announced exclusivity of Rotana Records. Now this is fairly in line with the Spotify's years long position that exclusives are bad. However that weak argument doesn't hold much water in markets where Spotify doesn't already hold a foothold. Fans in these markets don't know Spotify and if an artist or label choose exclusivity, Spotify without users holds little leverage at the table.
Next what struck out to me was the multiple quotes about piracy, here is one from Krause to be specific (emphasis is from Music Ally):
There is still piracy going on here, including stream-ripping and [illegal] downloading. The market is hoping for a second 'Latin American effect' where free music-streaming services provide an alternative to piracy, and create a larger [legal] market.
Beyond the still looming paranoia of piracy, Spotify found success in Latin America though early telco deals and rather sudden smartphone adoption in the region, which might offer a reason why a recent report showed YouTube drastically outperforming other services in Latin America. It's free, there are videos, and do a quick Google Trend search of "YouTube MP3" to see how popular the platform really is. Now I'll stop being glib and say Spotify did find success in Latin America, but the Middle East and North Africa hold another issue: much stiffer competition.
The Local Players
The biggest player in the region right now is Anghami with over 70 million users, which according to its Artist Connect page are spread fairly evening across the region with North Africa holding its largest consumer base. A rather ego-flattering Forbes Middle East profile of Eddy Maroun, Anghami's founder, featured a few points that contrast well with Spotify's own chatter about entering the region. Maroun centered the company's success on the riding the wave of increased smartphone usage and partnering with over 20 different telephone company to make sure users could get access to the music streaming platform.
Now to rain a little bit on Anghami's parade in the Forbes article mentions that back in March 2017 the service had 32 million downloads, but only around 5 million monthly users. That makes me wonder a little bit about how many people actually use service everyday. (I did email Anghami to ask for a bit of clarity and will update if I hear back) Yet the story of Anghami isn't unique.
Boomplay Music with over 36 million users is another large force in the market, and is owned by Transsion Holdings, a Chinese phone maker, and NetEase, another Chinese tech giant that owns one of Chinese's largest music streaming services NetEase Music. The music streaming service launched in 2015 and was last reported that 17 million of those users are in Africa. In what won't be unfamiliar news to readers of this newsletter, Boomplay Music's business model faces an uphill battle because since its not charging a lot for access to the music, at least by western standard, what little money is made goes back to either telcos or music labels. Still earlier this month Universal Music Group announced that it will be the the first American major label to license its music with the company.
Now there are a few other players I did want to mention even in quick passing. The Chinese telco company Huawei earlier this summer started Huawei Music in Egypt, Iraq, Jordan, the United Arab Emirates, and Saudi Arabia. Now speaking of Huawei, the Nigerian music streaming service MTNMusic Plus, which is owned by...you guessed it Huawei. The largest Tunisian telco Ooredoo launched its own music platform called Haya Music earlier this year. There is also Mdundo, which can be found in Kenya, Nigeria, Tanzania, and Uganda, and last year got a deal with Warner Music Group. In what isn't a shocking development while there are a number of local attempts at music streaming, many of Africa's the biggest potential players aren't African, American, or European, but rather Chinese telcos.
The Established Western Players
Now there is already a bit of competition in this space from western streaming services. Apple Music is already in many of these markets even though the company's never offered any data or information about how it's doing in these markets—I'd assume not great. The same is true for Tidal, which with an office in Uganda makes it the only major western music streaming service with offices in Africa. Apple's offices are in Dubai, Spotify's Dubai offices were said to launch this month, and Deezer is eyeing to set up shop in the city soon. I'm sure these skeleton staffs will enjoy cross-continental flights, but keep in mind when reading about how these companies are expanding globally only Tidal put in the resources to open an office in Africa.
(I nearly forgot to mention SoundCloud, which I wrote about earlier this year actually holds a non insignificant footprint in to the Middle East and North Africa. Also, I'll touch more on this next week but YouTube is fucking huge in most of these markets.)
There are two questions for me here: "What is the best outcome for the African / Middle Eastern music industries?" and "What are the chances any western streaming service makes real inroads here?" The former question to be cynical is rather bleak, because while piracy remains an issue, it's already clear that streaming doesn't offer real solution for artists and that's already being felt.
However for my other straw man question, I'm highly skeptical any of these western streaming companies, outside of YouTube, making deep inroads. Albrecht in an interview with Arabian Business stressed Deezer's commitment to telco deals as the company enter this region, which inspires more reassurance than Spotify who is stepping into the region with no telco deals. That doesn't mean there won't be expansion, one-off concerts, endless press releases, and a lot of narrative building. However I'll just be keeping a closer eye on sorting through the company bullshit in regions that already see less coverage.
On YouTube This Week
I'm sure some of y'all might've noticed this on YouTube, but in the bottom right hand of these screenshots YouTube is more directly promoting its YouTube Music playlist content.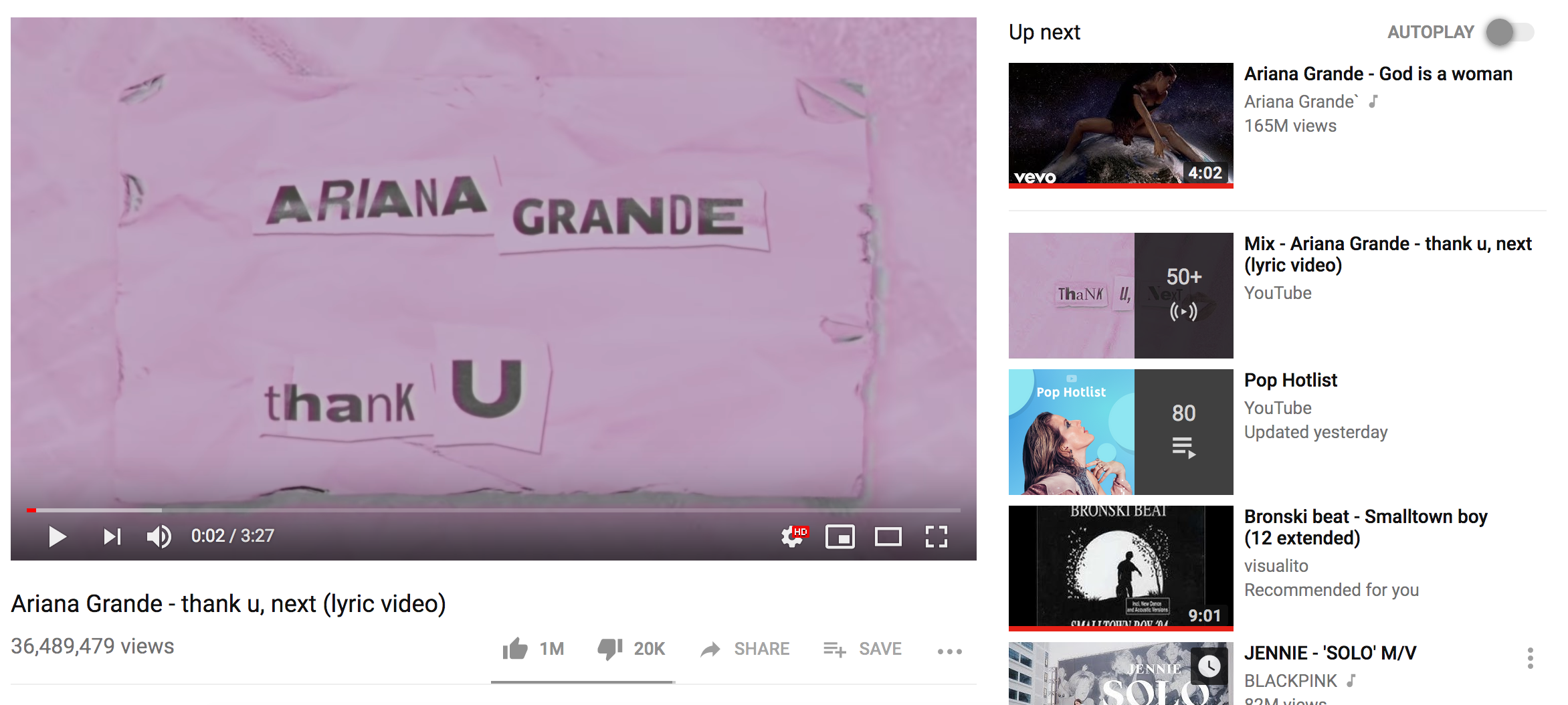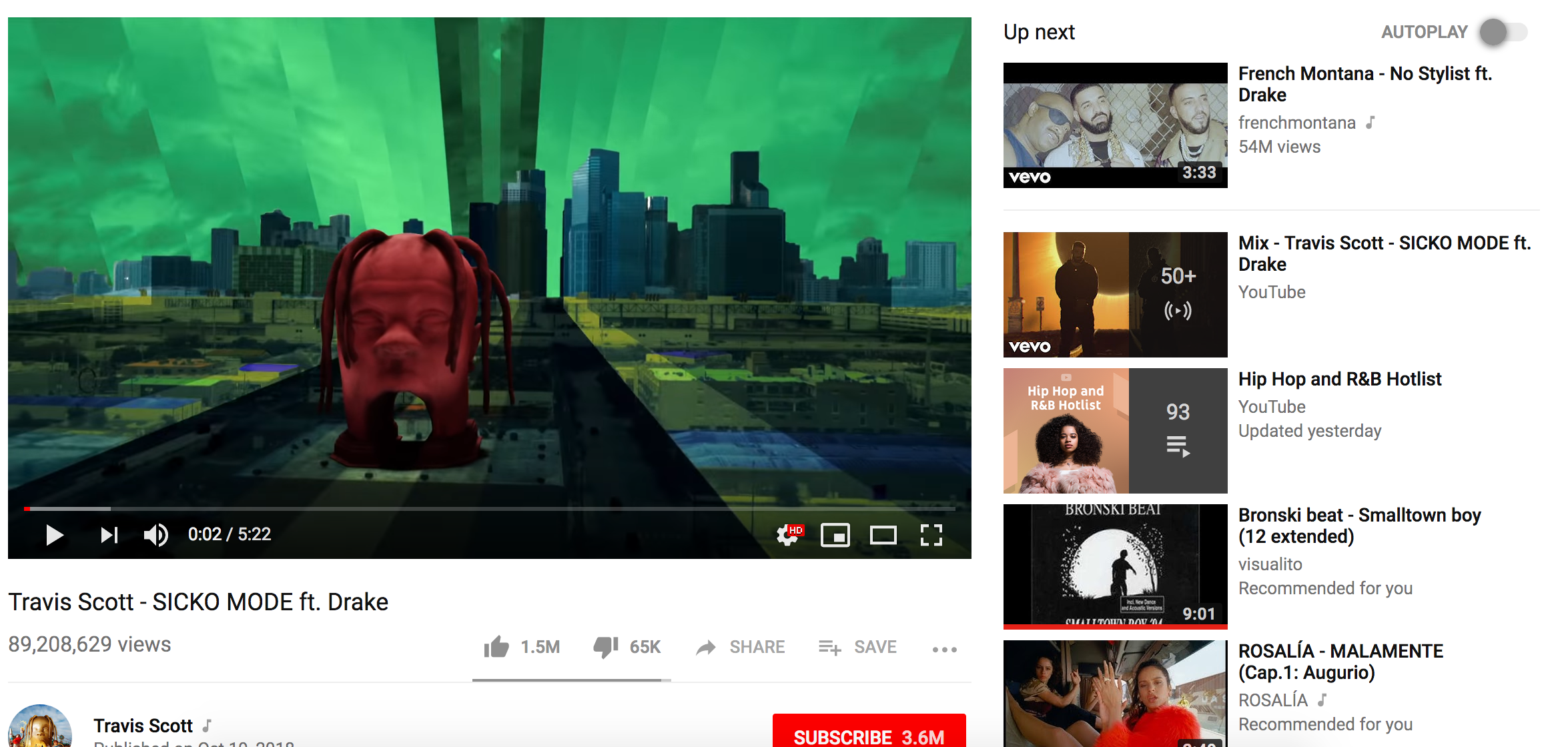 My main thought here is that I always find it so interesting how YouTube in certain contexts (Music) tilts its algorithm, but in other cases (Everything Fucking Else) the company its monstrous algorithm do the rest of the work. Anyway, I'm always interested in little UI tweaks so certainly point other examples if you spy any.
6 Links 2 Read
The Radicalism of Taylor Swift - Slate
If you'd like to read my take on the Taylor Swift Universal Music Group deal press the link above. Also y'all of course all of this is a massive PR move but that doesn't mean there aren't lessons to be learned from well executed PR.
Spotify to Launch in India Within Six Months - Variety
My newsletter next week was already going to be about Spotify's relationship with India, so stay tuned next week for deeper thoughts on this topic.
Taylor Swift, Label Services and What Comes Next - The Music Industry Blog
Now for a little more T. Swift content. This time it's centered on what is the new relationship between artists and labels. Just gonna make a mental note I should dive a little more into label services one day.
Will Article 13 Really Kill YouTube Read It For Yourself It's Only 240 Words Long - Music Business Worldwide
YouTube fears government regulation the same way I feared slugs as a child. Unfortunately its problems can't be solved with salt and instead its committed to a coordinated misinformation campaign. Great job Lyor and Susan!
Everything on Social Media is For Sale - The Atlantic
Taylor Lorenz dives into how people across social media platform are monetizing even the small points of interaction. I wrote about this nearly a year to the day in an early newsletter about SoundCloud reposts, so excited/horrified to see this trend only go further.
Apple's 30 Percent Transaction Fee For In-App Subscriptions Might Disappear. What Would That Mean For Music Streaming? - Billboard
I found this piece very interesting because I don't think I even realized the levels of restrictions app have within the App Store. This is certainly worth following to see where this case goes.