Do We Need to Regulate YouTube?
Hello, happy to be back writing on the ever-changing music industry this week. During my week off, writer Matt Stoller included an email response I sent about the Hipgnosis Song Fund in his newsletter and the Artist Rights Alliance invited me on their video series 'Words on Music'! Otherwise, truthfully, I'm already looking forward to the holidays even if the ongoing coronavirus pandemic will limit who I can see. Before I fall into a holiday nostalgia trip, let's take a look at a little video sharing platform called YouTube.
---
An Eye for Google, What about YouTube
Two weeks ago, the United States Justice Department, along with a number of state attorney generals, filed a lawsuit against Google for its monopoly in search and online advertising. This caused quite a few headlines because it was the first lawsuit filed against a major tech company in decades, and just on the heels of the United States' House's over 400-page report on marketplace abuses by America's biggest tech firms including Amazon, Facebook, and Google. The outcomes of the lawsuit and report aren't fully clear at the moment but there's clearly an eye on these firms. This level of scrutiny is a marked difference compared to tech's rise throughout the 00s and 10s, where these concerns didn't reach the same level of government interest.
Perhaps unsurprisingly, YouTube didn't make a big appearance within this Justice Department lawsuit. The 64-page report centered on Google's origins, its advertising businesses, its dominance of internet search, and how it's able to weave consumers into a web of products that are increasingly difficult to escape. This takes a particular shape with search, where Google uses its monopoly power to further promote and disproportionately favor Google content over non-Google content. This can be done in the form of blocking off large portions of screen real estate for advertisements through prioritizing or simply adding its own content, like frequently asked questions or its own 'instant news' bubbles, to search results pages.
What's interesting to me is how relatively quiet this transition has been. Genius first sued Google over its inclusion of lyrics into search, effectively undercutting the company's main source of traffic, though that was ultimately dismissed. Then, journalists were rightfully agitated about Google's tinkering with the search algorithm and their introduction of AMP pages for news stories. Now, why would this be relevant for a newsletter about music streaming…?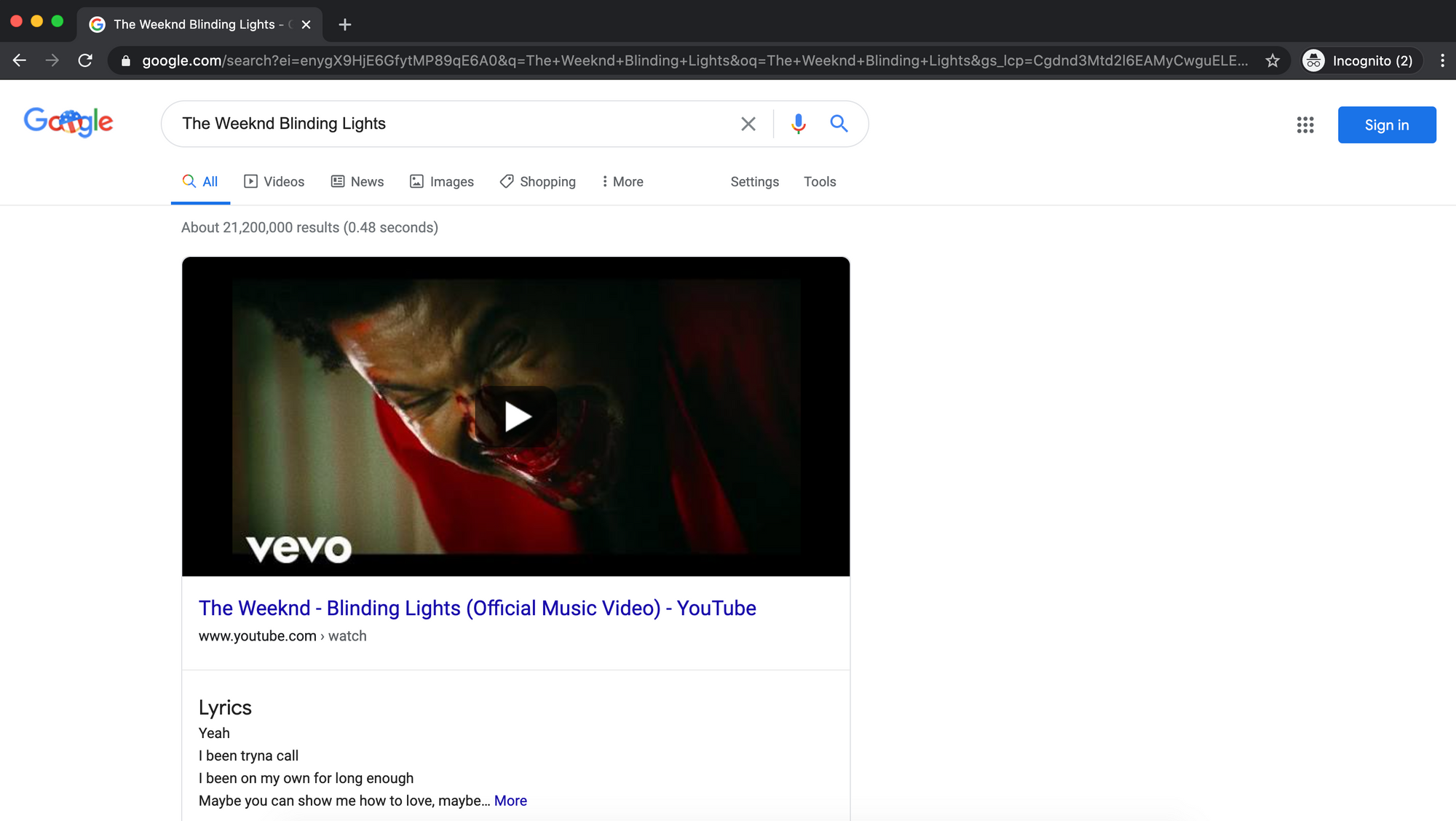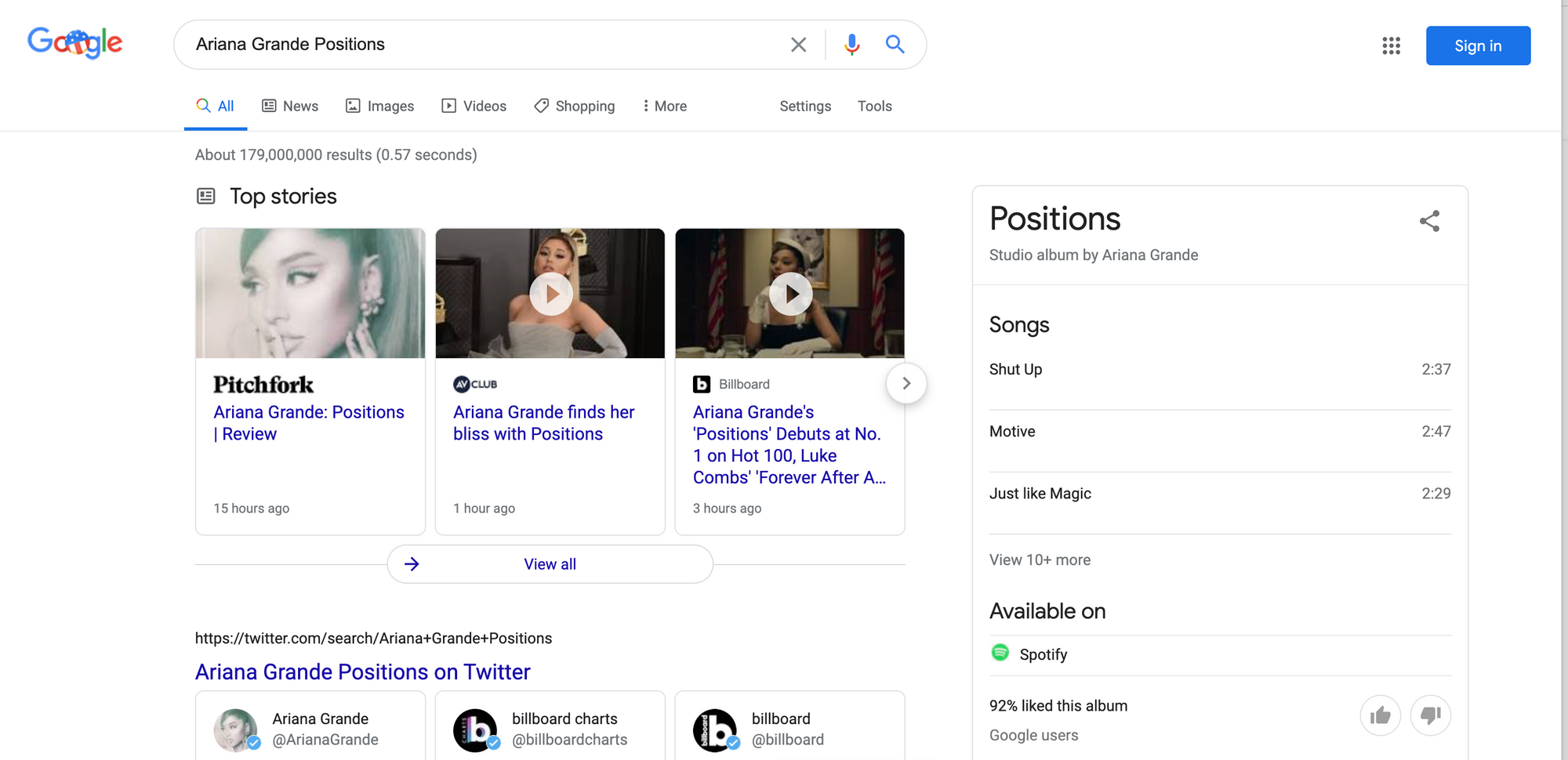 Because the world's biggest internet search company, which mostly makes money through advertising, being able to plop its own video content into relevant search results is a clear abuse of monopoly power. YouTube's dominance in music can be seen in how it's currently the primary way one looks for and discovers music videos. Vevo, the major label-backed music streaming platform, was certainly never perfect, as I wrote about last year. However, in the early 2000s, prior to YouTube, there were numerous viable sites that streamed music videos and there was even the novel concept of websites having their own video players. Many of those other video players weren't great but in hindsight that feels closer to momentary technological limitations rather than due to YouTube simply being the best, and seemingly, the only option available. Instead, YouTube was bought by Google in 2006 and continued to lose money until it was able to effectively become the internet's default video sharing platform. I'll stop here before I get too deep into YouTube's broader issue as a platform.
What appears in search isn't often the primary concern that record industry workers express with YouTube. Rather, the worries around YouTube are well articulated in a 2018 letter written by the Future of Music Coalition and sent to the Federal Trade Commission. The letter covers numerous monopolistic abuses that YouTube committed over the last decade, especially in regard to its intentionally obtuse artist payment system. This is despite the fact that YouTube is, by sheer watch time, the most used music streaming platform worldwide, yet it doesn't pay out artists/labels as much as Spotify. In particular, YouTube is shielded by section 512 of the Digital Millennium Copyright Act ("DMCA"), which offers it protection from copyrighted content on its platform as long as it makes an effort to remove said content once notified.
I say this to highlight that, from a regulatory perspective, there's still quite a bit of fertile ground for improvement. Although organizations and musicians do voice their issues with YouTube, the broader industry conversation, at least from record labels, centered on the "value gap" and how poorly artists are compensated. Again, while certainly true, reading the FMC letter reveals how the monopoly that Google holds over video streaming shouldn't be so narrowly defined to a perceived lack of money flowing to artists. YouTube's current position in many ways limits what online music and video content could be right now.
The Long Boring Turn
In the summer of 2018, YouTube launched YouTube Music, which could be judged a success since its predecessor Google Play was sunset earlier this year. Personally, I hold little affinity to Google Play but any coherent music strategy would avoid including two separate music platforms owned by the same company. Even though YouTube Music may invest in some slightly updated features, it's pretty much there to just keep the wheels turning within the contemporary music streaming framework. YouTube Music's close mirroring of Spotify may speak to a lack of collective imagination among streaming platform middle management, but there are also no market forces pushing for "innovation" aside from simple feature parity.
Major labels will continue to shadow box YouTube but ultimately it'll be smaller artists and creators that are left out. Even though Spotify is under a microscope for how it compensates artists, YouTube has laid out the framework for such an arrangement where major labels get their early payday, never stop complaining, and eventually start to act nice. The artists and labels holding routine meetings with YouTube to discuss programming and promotions aren't worried about such concerns. This is just YouTube being fully enmeshed into the record industry.
This doesn't mean that nothing refreshing will come from YouTube Music. The company reportedly reached 30 million paying subscribers (a fraction of Netflix or Spotify's) but at least showed some growth. A Twitch rivalry is always on the table, but even within the context of music, there's no clear model for music live streaming that isn't riffing on either radio or video game streaming practices. Neither of which feels particularly novel, though some potentially compelling capabilities could certainly emerge. Thus, while Spotify has come under increased scrutiny from musicians (both organized and unorganized), it'll be interesting to see whether YouTube remains out of sight.
Unheard Labor
As mentioned above, the Union of Musicians and Allied Workers launched their Justice at Spotify campaign last week. The musicians who put together the public letter, along with the Copyright Royalty Board, are demanding greater transparency, user-centric streaming, a payment of one cent per stream, and an end to Spotify's ongoing battle against songwriters. The letter has gotten over 16,000 signatures so far, but I doubt Spotify will look to directly address it (at least no one expressed concerns around this during the company's Q3 investors call).
Adam Krauthamer, the president of the Local 802 of the American Federation of Musicians, put out a New York Daily News op-ed asking for economic relief for cultural industries. New York City must certainly help sustain the arts during this climate but I was struck by how broad and vague Krauthamer's ideas were. I'm curious to hear about any more specific proposals or perhaps examples from other cities or regions around how to support the arts right now, so if you know of any, please share!
A Note of Financialization
Lotta news this week. On Monday, the Hipgnosis Song Fund spent $322.9 million to buy Kobalt Capital's first song fund that was created back in 2011. This is one of the biggest purchases in recent memory and even includes part of the songwriting credits to Mariah Carey's "All I Want For Christmas Is You". Primary Wave Publishing, who in 2016 got a $300 million deal with BlackRock, signed a multi-million dollar deal to help promote the music of the mid-20th century pop group the Four Seasons. Music Business Worldwide's reporting notes that this leaves the door open for eventual acquisitions of the songs themselves. The last acquisition story is that Calvin Harris sold his publishing catalog to Vine Alternative Investment, one of many private equity firms in this market.
Tencent Music, not Tencent, bought a minority stake in Instrumental, a UK-based "data-driven" A&R startup. Now, does this personally excite me? No. However, I've found it curious how much of the music tech space is aligned towards future acquisitions rather than addressing wider industry concerns. A B2B startup culture within one of the most public entertainment industries. Just a lil weird.
6 Links 2 Read
Spotify's New Artist Tool Could Boost Streams (with a Discounted Royalty Rate) - Music Ally
This week Spotify revealed the creation of a new advertising market based purely on selling what songs are recommended within its radio and autoplays when albums end. Now, many folks were upset about this, allegedly even major labels. This does sound terrible, still, it's rather revealing that Spotify is flipping over rocks within its core product to find space for advertising revenue. Certainly, as Spotify expands more into markets less receptive to subscriptions this could be a potential path for additional income. Now, what about those subscription prices?
Spotify is testing price rises and paying labels billions – but, in alarming news for investors, it appears to have a subscriber problem in emerging markets (update) - Music Business Worldwide
Spotify will one day raise prices. However, the more amusing part of Music Business Worldwide's report is their observation that Spotify lost subscribers within its "rest of the world" category. Spotify denied this but didn't provide any data to push back against such a claim. My own calculations align with MBW's but we'll just have to see in early next year if that alleged trend holds.
How the Dance Music Industry Failed Black Artists - Mixmag
Hard to imagine an essay that better weaves together a powerful critique of electronic music's political economy and the early radical promise of Detroit techno music.
This 1996 Law Was Meant to Save Radio. Instead, It Decimated Popular Black Music - Vice
This story highlights how the Telecommunications Act of 1996 didn't need to target black radio to do such damage as reducing independent radio and consolidating radio playlists.
Big Tech Comes for Podcasts - Washington Monthly
A nice history of podcasting that argues for intervention within the podcast industry to prevent it from becoming another part of the internet dominated by Amazon, Facebook, and Google.
State of Sync: How the entertainment industry is adapting - The DISCO Blog
There are so many parts of the record industry I often overlook and the world of syncs is certainly one. This article shows how the start-stop nature of pandemic-era entertainment production casts a new light on what music is sought after for commercial purposes. This article is a few weeks old, so recent Europeans lockdown measures aren't mentioned but that might only reinforce those quoted who said they're taking this entire moment day-by-day.