Listen to Your Fans, Not the Platform
Hello, I hope y'all are doing a well this week. I'm home the rest of the week on a little vacation so I wanted to ask y'all a quick favor. At the bottom of this week's newsletter is a short survey about Penny Fractions. The last few weeks I've mulled over new ideas and projects I'd like to try out in this space but I wanted to reach out to y'all first and gauge interest. Throw all responses to pennyfractions@gmail.com and if you enjoy the newsletter recommend it to someone, anyone. Otherwise enjoy this week's newsletter!
---
Originally I was going to write about voice and the role of voice in the future of music streaming, but I got a bit distracted by an email I got last week. The terse email asked how Nicki Minaj's most recent singles "Barbie Tingz" and "Chun-Li" were performing. I of course kind of went a bit overboard in trying to map out each song's performance, so I wanted to share a bit of that overanalysis. Then once I feel into that rabbit hole I realized this is a fairly strong example of a trend I've written about a little bit in how the voices of fans are often overlooked in discussions of streaming. It's a bit of journey, but hopefully a fun one, also pictures!

On April 12th Nicki Minaj, one of the decade's most successful rappers, put out two singles "Barbie Tingz" and "Chun-Li". The former was a slightly more mainstream rap song and the latter positioned as more of the "street" single with a less defined hook and more to be glib #bars. Personally I preferred "Chun-Li," but when I started looking at where it was getting seeded on Spotify playlists it was clear that "Barbie Tingz" was getting the bigger push.

On Spotify "Barbie Tingz" was initially placed onto the Daily Lift, Teen Party, Hot Rhythmic, Pop Rising, and numerous New Music Friday playlists; "Chun-Li" was put on Hip-Hop Central, This Is How We Do, Who We Be and Women of Hip-Hop playlists. Both songs received fairly strong placement in those opening couple of days, but "Barbie Tingz" was being pushed on a pop track, while "Chun-Li" was headed to rap. When I initially saw how these songs were being put on particular playlist tracks my initial thought was that Barbie Tingz would outperform "Chun-Li" but that didn't happen at all.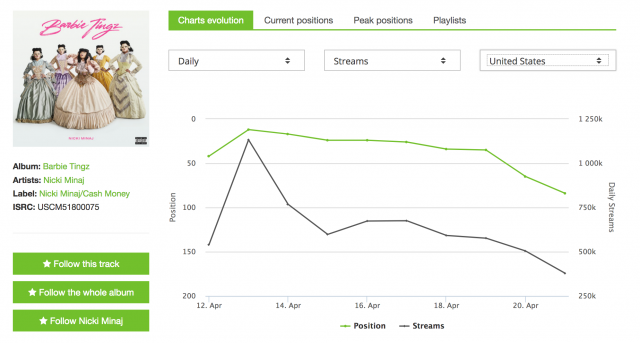 "Barbie Tingz" initially was doing better than "Chun-Li" but by the following Friday "Chun-Li" was outstreaming the A-side single and even got placed onto Spotify's largest playlist Today's Top Hits, while "Barbie Tingz" was already being shuffled off a couple of the bigger playlists (Pop Rising) it got slotted onto. I've written often about how Spotify playlists are a walled garden for major label music and pushing the whims of those companies, but that's never to say a song's performance cannot affect that trajectory, this being a prime example.
I was curious of the song's performance outside of Spotify, so I did a quick search for "Nicki Minaj" in SoundCloud, where her most searched song was "Chun-Li" despite the fact it nor "Barbie Tingz" is officially on the platform without a premium subscription.


The same held true when I did a search in YouTube, where "Chun-Li" again sat right above "Barbie Tingz". The "people" or perhaps bots, lol, appeared to have already selected a winner between the two songs within only a few days.

When I took a peak at the Apple Music charts on Sunday afternoon "Chun-Li" was #25 while "Barbie Tingz" hit barely within the Top 50 at #48. The gap was even larger on the iTunes charts wheere "Chun-Li" ranked at #35 and "Barbie Tingz" waat s #84.

When the new Billboard charts were released on Monday the final tally put "Chun-Li" at #10 and "Barbie Tingz" at #27 on the Hot 100. Not bad showing for either song, but it was clear that "Chun-Li" was the opening week winner in this two song race.
A newsletter idea that I interviewed a few people for, but unfortunately never got around to publishing was about the of release dates in this post-streaming world. A comment I remember getting was the potential effectiveness of releasing two singles at the same time. The idea makes perfect sense to me in that it allows for one to test and gauge how one's fan base and the market will react to potentially different artistic paths taken by an artist. That's what I found interesting here is not really what playlist paths or YouTube tricks either song was trying to pull to reach more of an audience. No what I found interesting that across platforms fans were searching for "Chun-Li" so much more than "Barbie Tingz" that when "Chun-Li" came out on top for Billboard that wasn't at all a surprise. If fans are searching on SoundCloud for one single over the other and if on Apple Music one was outperforming the other then that's all one needs to really know the direction of both songs.

An anecdote mentioned often throughout 2017 was that when Lil Uzi Vert released "XO Tour Lif3" last year I could tell within a few days it was going to be his biggest song. He released it and three other songs on SoundCloud, no where else, and not only was it outperforming the other tracks 2:1, but it was already starting to outpace a couple other near hits from 2016. That's why I also got annoyed reading Craig Marks' piece in New York about Spotify's ability to make a hit and putting that song's success on RapCaviar and not SoundCloud. One didn't need any deeper analytics to know "XO Tour Lif3" was going to be a success. All one needed to do was check out the platforms where fans, not algorithms or curators, hold the most sway and see the performance there. Of course this isn't always going to work, but in these head-to-head song races it can offer all one needs to know about future performance even with a limited data set.

That's why I laughed reading a recent Music Business Worldwide piece this morning about J. Cole's streaming numbers for his album KOD. On opening day,the album clocked in with 36.7 million streams on Spotify and 64.5 million on Apple Music. The article closed with a slightly befuddled question inquiry: "Is Apple Music's hip-hop-leaning US audience over-indexing to such a degree that the service is becoming the No.1 platform for the genre in the States?"
My first 2018 newsletter already answered that question: "[Carl Chery] mentioned how Apple worked even pre-Apple Music to distribute Chance the Rapper's side project Surf for free on iTunes, then with Apple Music Drake came along with with OVO Radio, and even last year in the waning days of exclusives they got (2) two albums from Frank Ocean. Even artists they claim—6lack, Daniel Caesar, and Sabrina Claudio—are almost all exclusively r&b singers. Demographics don't need to be public when such taste biases are so obvious."
A reason to always take a more holistic view of streaming is because of moments like this, because just reading statements from executives and revenue numbers ignores just how much actionable information is sitting within chart and search data. Obviously many teams and records labels already pounce on this information, but it could be more beneficial those who aren't in data specific jobs also take that more into when talking about these news trends and spaces. Once I saw "Chun-Li" peak in Apple Music's Top 10 and not "Barbie Tingz", I knew which was going to be the greater success. Charts and search result, because they can reflect direct fan taste, often tell stories before PR molds it into a clean one. And personally I enjoy the messier one.
6 Links 2 Read
Spotify Just Gave You a Pretty Good Reason Not to Pay for Spotify - Gizmodo
A tech blogger (David Turner) goes to a Spotify event and learns their updated app will offer a data saver option and more playlist/song freedom for free users. Get hyped!

Ad Tech Streams Into Audio - Ad Age
I asked this at the Spotify media Q&A and received a non-answer, but if Spotify continues to grow in non-western markets where advertising rates are much lower than they are in western markets then what happens to royalty rates? Again we don't know what kind of deal labels signed for this particular update, but sure would be interesting to know.

Should Artists Get a Cut When Their Songs Land On Branded Playlists on Spotify? - Billboard
This is a topic that Liz Pelly mentioned last year in her excellent story for Baffler magazine on Spotify. The two of use chatted about it well before her piece came out, so it's nice to see this getting more mainstream attention. This still appears to be a massive grey area in the real of music streaming and is one that, assuming I have the time, would really like to explore more.

The Quest to Teach AI to Write Pop Songs - Gizmodo / How Music Generated by Artificial Intelligence Is Reshaping -- Not Destroying -- The Industry - Billboard
Two pieces last week came out by my co-worker Frida Garza and Cherie Hu about AI and music and I highly recommend both. AI isn't going to replace human created music but more likely will be another instrument in the equation.

Vivendi reviewing possible Universal Music IPO, CEO Says - Reuters
Big (comma)(comma)(comma)(comma)(comma)(comma)if true.

Your Pretty Face Is Going To Sell - Open Space
I love these weird meta stories about the cultural side of internet platforms—YouTube in particular. This piece breaks down the evolution of the YouTube thumbnail and the weirdly "algorithmic" way this particular format developed over the years. What does this have to do with music? Well, that's part of the fun I'll leave for y'all do ponder.
---
Reader Survey Questions
   1.    What do you currently enjoy about the Penny Fractions newsletter?
   2.    What do you feel could be improved about the current newsletter?
   3.    Would you have any interest in an additional newsletter during the week?
   4.    What are topics that you feel in the music streaming space that are overlooked / under discussed?