Always Question the Company Narrative
Hello, there are a number of new subscribers this week, which feels like a good moment to do a little bio on myself. I'm David Turner, an increasingly infrequent music journalist whose work has appeared in Bandcamp, Music Business Worldwide, the New Yorker, Spin, and Rolling Stone. A bit of professional news is that I'm about to start doing some contract work with SoundCloud and won't be writing about the company going forward and wanted to be upfront with that. If this potentially clouds the perception of my commentary, I understand.
Otherwise, Penny Fractions arrives every Wednesday morning (EST) with an essay on music streaming with links to stories I find interesting. I'll admit this week's newsletter is a little weirder than normal, so certainly check out my previous weeks where other topics might interest you more. Long-winded introduction aside, let's chat about one of my former college majors: Public Relations.
---
Telling "The Story"
Last November Spotify put out a story titled "Mexico City Is Now the World's Music-Streaming Mecca". The press release presents Spotify's success in Mexico City by focusing on artists and them finding a potentially new audience. ("Lured by the popularity of streaming in the city, aspiring and rising singers and songwriters are in on the trend, too.") The strange assumption is that many of these acts wouldn't've known of their international fan base without Spotify's bountiful data to tell them, which certainly isn't the case. So, I never got an email with this press release but my gut tells me some other journalists did: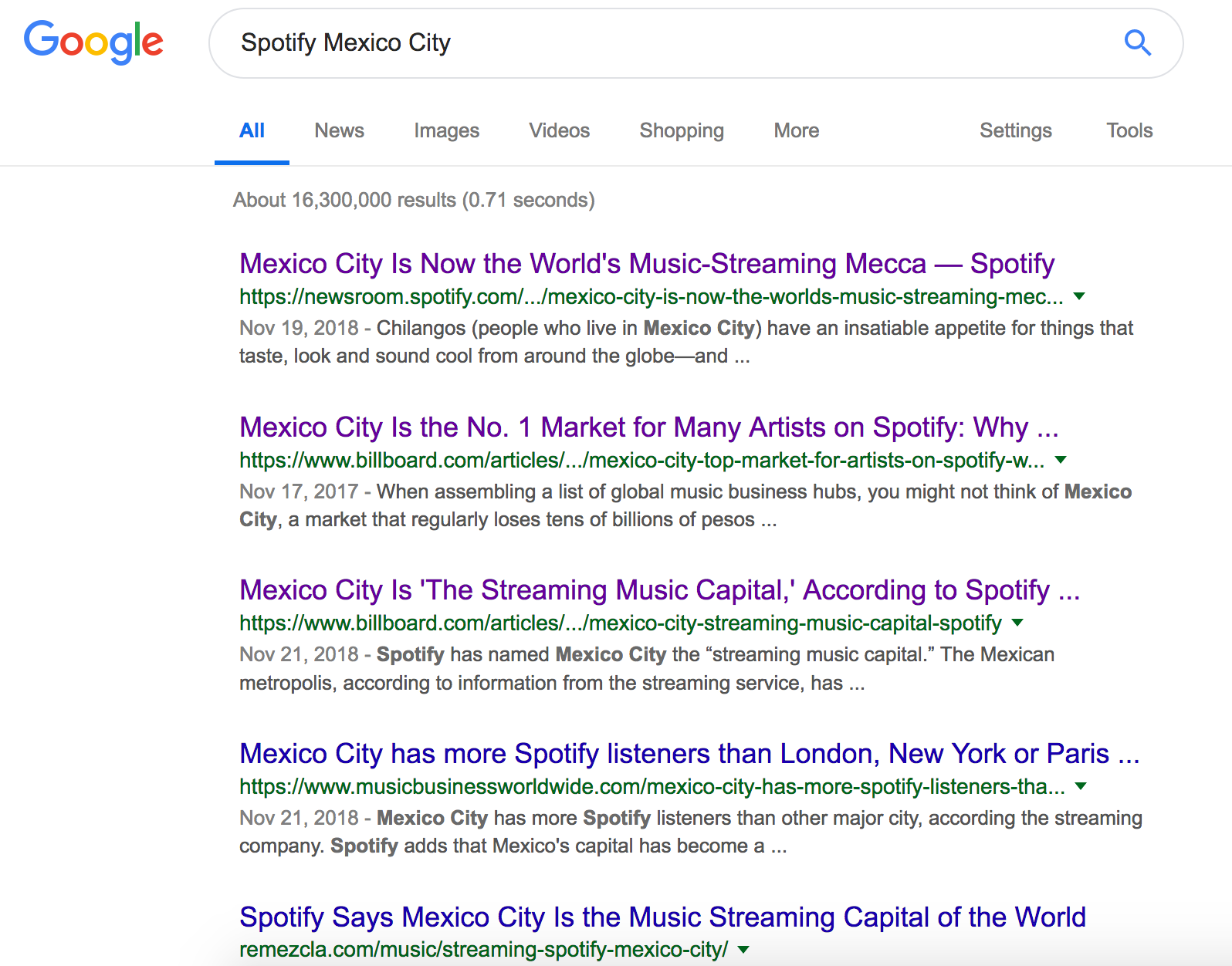 My reason for pointing this out is because I often get emails asking my opinion on these type of fluff stories and wanted to give them a little context: Companies, in this example music streaming ones, have a narrative they want to push. Tech companies typically focus on disruption, growth, or something positive to inspire more monetary investment or increased product consumption. Most publications that rely on web traffic need content and all of these companies are ready to supply publications with calorie-free stories of product announcements, brand partnerships, record-breaking streaming numbers; essentially any bit of news that further displays a company on a path towards success. These stores are generally inoffensive—though I'd say they stretch most definitions "news", that's why I wanted to harp on one detail in the piece (emphasis mine):
As Mexico City's growing streaming numbers surface through Spotify data, the city is becoming a magnet for major live acts. Take seasoned alt rockers the Pixies, for example. The iconic Boston band's streams spiked 346 percent in Mexico just one week before a series of performances in Mexico City. With 145,995 monthly Spotify listeners, Mexico City may hold their biggest fan base. Flush with numbers like that, it's no wonder the Frank Black-led group played last weekend to a crowd of 100,000 in Zócalo, central Mexico City's main square.
I wrote about my issues with the "monthly listeners" stat in depth here so I won't rehash that. My reason to highlight this graph is the bizarre conflation of monthly listeners with performing to a six-figure festival crowd. The phrasing implies that that with 145,995 monthly listeners in Mexico City the Pixies would in turn be capable of playing to 100,000 people, except this comparison essentially makes no sense. There is no proof that every one of those people in attendance use Spotify or even like the band, as most festival goers would know that raw attendance numbers doesn't equal an engaged fan. The story only exists to further push Spotify's narrative of success within Latin America, which is true to an extent, but the company's positioning of its own internal data is fairly misleading.
If that correlation was correct then Bronx, New York rapper A Boogie Wit Da Hoodie—who went no. 1 this week selling 823 album copies—could play to over 400,000 fans in Brooklyn, New York, which would be preposterous. He's popular, but he isn't that popular.
(I wanted to say much inspiration from this newsletter comes from the media criticism podcast Citations Needed that goes into great depth about many media sins)
Sell That Narrative
I used this initial example because within just restating a press release is presenting company talking point as facts. Last fall there were a number of stories about Spotify making playlists for local elections in the United States. The playlists that were created lacked explicitly political music and were rather benign song collections that design, and effectively did, catch headlines. Rachel Kurland of KYW a local Pennsylvania radio station said:
But our local spin — "Get vocal, Pennsylvania!" — has very little to do with Pennsylvania or voting in general. Really, it's a lot of upbeat pop and rap songs that are assumed to inspire youths to get out to vote. "A" for effort; "C+" for musical selections.
Two of the 20 songs are by Philly's own Meek Mill, and a few Pennsylvania natives made the cut, like Marshmello, Mac Miller, Wiz Khalifa, Lil Skies, and Lil Uzi Vert, but other than where artists were born, there's not much of a connection to the commonwealth or civic duty.
New Jersey's playlist has a similar mix with more of a pop/ Top 40 vibe, and disappointingly no Bruce Springsteen.
Kurland took a critical eye toward this story and helped show how thin Spotify's stunt was here. Now Spotify isn't the only offender of this tact. Essentially every Apple Music story from last year about the company encroaching on Spotify's "total number of paying United States subscribers" ended up creating headlines like:
I myself even wrote a piece in this vein for Slate, titled "Why Apple Music Is Starting to Win Spotify's Game". Apple effectively shifted the narrative of them being beaten by Spotify into one of them leading the Swedish company in its biggest market, even if factually Spotify is still bigger than Apple Music within the United States. Articles might say this fact but the headlines don't clarify this convenient misreading of information.
The effect of these stories is that these companies are pretty easily able to tell a story about the state of music streaming that isn't untrue but messages the facts towards its liking. Look no further than Tidal's ongoing battle over accusations of falsified streams to know that these companies aren't keen on keeping the record correct if it presents a business concern. The larger effect is that it becomes harder to think of music streaming outside of these massive platforms. Instead of viewing this contemporary moment as an opening to completely re-frame how one would like to approach being a musician. The advice simply to play the playlist slot machine.
A recent Billboard piece by veteran music business journalist Steve Koppell titled "How Spotify Is Scooping Up Indie Artists & Edging In on Label Territory" highlighted the many tools open to musicians by the major music streaming platforms. Notably he didn't mention platforms like Patreon, Kickstarter, Twitch, Discord, etc that can offer new ways of contextualizing how one can be a musician. Beyond sticking to the boilerplate streaming service approval tools the closing quotes shows how limited the worldview of contemporary music streaming is allowed to be:
Spotify and other top streaming services "are not protecting the status quo. They are saying, 'Let's protect the future,'" says Zack Gershen, partner with mTheory, which provides services for artist managers and works with Major Lazer and twenty one pilots. "It's all part of their attempt to democratize the business and level the playing field."
The "future" of music streaming isn't fundamentally changing anything about the music industry instead it's reaffirming the vapid idea that equal competition can fix larger structural issues. The end result of entirely unchecked public relations statements is that someone within the music industry can effectively restate a Daniel Ek talking point. The realm of possibility is limited and even a past where musicians were successfully unionized and not pushed to fight towards the bottom is entirely forgotten. Public relations and non-news news items aren't solely to blame, but they confine any challanges these assumptions.
I'll close with this tweet, and subsequent follow-up tweets, from the band Screaming Females that I think touches on this increasingly harder to ignore tension.
6 Links 2 Read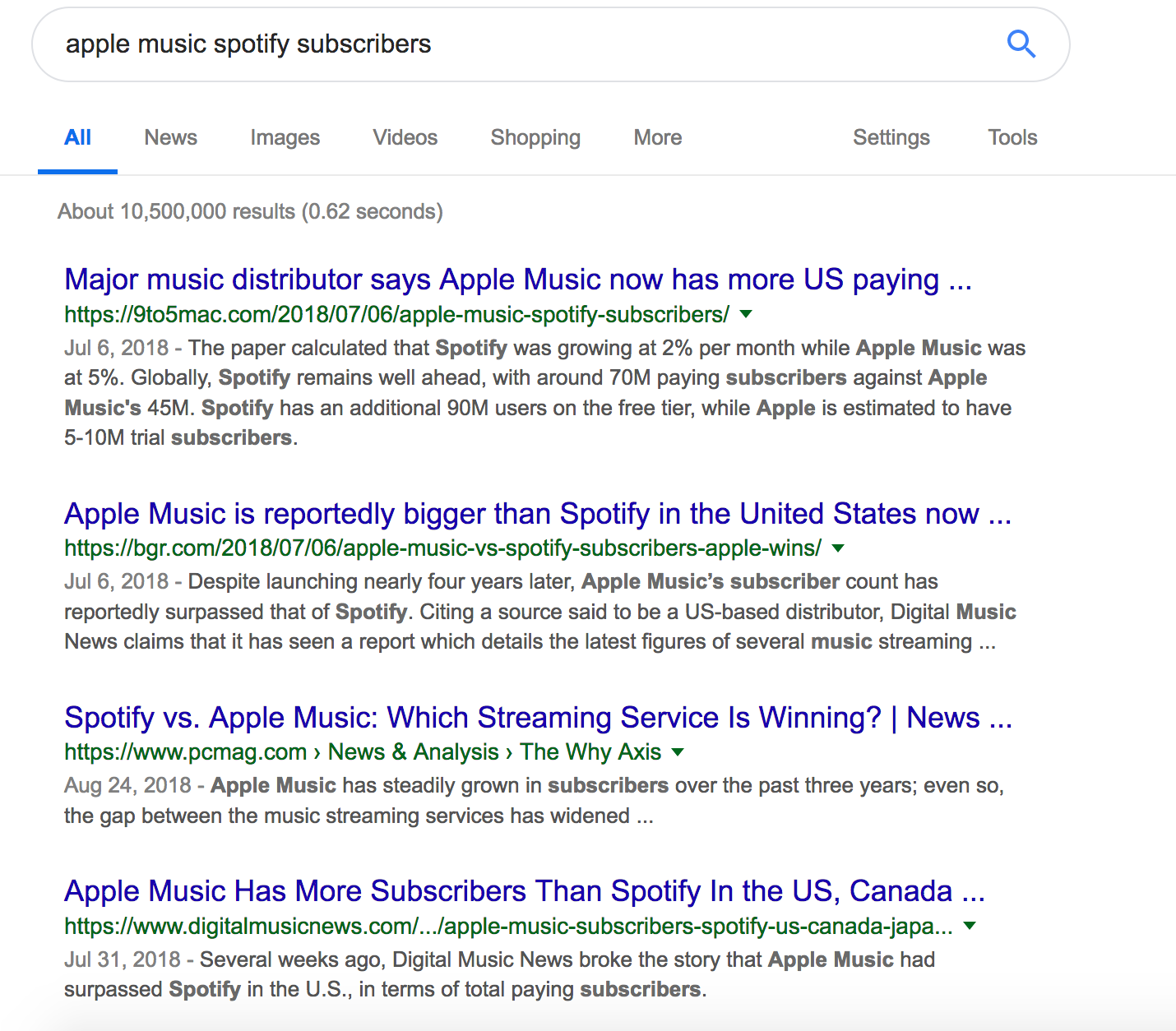 Daniel Ek Wasn't Lying Streaming is Becoming Less Dominated by Mega-Hits - Music Business Worldwide
Now with all that I said above, I wanted to say of this piece is that this headline might imply that non-stars are finding success but in reality the streams are spread out as more people join the market but this isn't meaningfully helping the lives of average artists that make little money through the platform
The Average Spotify Subscriber Pays $5.50 a Month — and Record Labels Hate It - Rolling Stone
The slow PR campaign that the record industry is about to throw at Spotify is going to be fun to watch. Tech overall is in the media world getting more criticized, Spotify's numbers aren't ballooning, and labels aren't wasting time saying they're getting screwed despite making tons of money. The best industry continues to be great.
What TikTok Is Depends on Where TikTok Is - New York
A great breakdown of TikTok usage among various communities across the internet. This is where I'd love to read more studies of how social media content shifts in meaning in different contexts.
Why Apple's Profit Warning Could Put Music and Video Center Stage at the Company - Music Business Worldwide
I wrote something not too dissimilar last week, but I'll admit that until Apple's video streaming content arrives I'll be a little more reserved in guessing where music fits into the company.
Tidal "Fake Streams": Criminal Investigation Underway Over Potential Data Fraud in Norway - Music Business Worldwide
I wrote about about this year but ummm yeah those numbers didn't really add up when examined with a little bit more scrutiny, but I guess we'll see how this goes in the future.
Spotify India launch plans heat up with T-Series… and Samsung? - Music Ally
I chose this story because it raised a good point of Spotify's Samsung partnership and what that could mean for potentially breaking into the Indian market. Otherwise it's hard to find much value in this story until Spotify fully enters India and even then until they acquire millions of users I'll remain skeptical. (On the flip side Verizon is now offering free access to Apple Music for some users, so expect that entirely needless subscriber race to continue)
The Penny Fractions newsletter arrives every Wednesday morning (EST). The artwork was done by the graphic designer Kurt Woerpel whose work can be found here. My personal website davidturner.work. Any comments or concerns can be sent to pennyfractions@gmail.com. If you like it: Share it! If you don't: Let me know!