Two Simple Questions for Spotify in 2020
Hello, readers! A short introduction this week: I only ask that if you enjoy this newsletter, please forward it to a friend, colleague, or personal enemy who just loves reading about the music business. Check out the newsletter's archive here and support this via Patreon if you can. Otherwise, let's chat about Spotify.
---
Is Spotify An Audio Company?
Last week rumors became reality when Spotify announced its purchase of The Ringer, the Bill Simmons founded pop culture and sports website and podcast company. Last year I wrote on my Patreon about how the purchase of Gimlet Media served one key purpose: to build a Corporate Narrative. The February 2019 purchases of Anchor and Gimlet arrived just before Spotify's launch in India, where there appeared to be a lull in exciting news arriving from the company and so the pivot to podcasts helped provide a spark. One year later and with a new purchase I see a similar trend playing out, as the purchase of the Ringer will allow Spotify to further develop the idea of owning the podcasting realm. I thought this was bullshit a year ago and a year later my opinion is the same. (I explained why it'd be bad for artists last year and I'll give voice to my broader skepticism in a couple of graphs) However, I read a piece last week that did attempt to tease out Spotify's long-game strategy in a considerate manner.
Matt Stoller, the author of Goliath: The 100-Year War Between Monopoly Power and Democracy, in his newsletter, which centers around monopolies, looked to see what impact Spotify might hold on podcasts. Stoller makes a comparison between Spotify's place in the audio sector and Google/Facebook within online advertising. Essentially, he shows that these two companies were able to buy up companies and startups within the advertising space and were able to nearly completely corner the market on internet-based advertising. Hypothetically, if the same story were to play out in audio, the end result would be according to Stoller: "a few giants, not just Spotify, ultimately become a dominant vertically integrated podcast, distribution, and advertising platforms. These will then cut deals with each other, and cartelize the industry into a land of giants, much as Disney is doing in Hollywood. (In fact, I wouldn't be surprised to see these two spaces merge.)"
Stoller, as is his M.O., references the Clayton Act from 1914 as a potential way to deal with this type of monopoly. I would welcome such an activist government but Stoller's broader point feels correct, even if ultimately Spotify isn't the sole actor in this space. The concern that Spotify, Google, or perhaps even Apple, will someday attempt to take over the podcast space so that all advertising runs through these companies that already own the primary means of distribution is unnerving. That's the vision that Spotify wants and Stoller is correct to point out that podcasters and these companies can certainly push back from such a future. Yet, one reason I wouldn't count on Spotify to reap these rewards is that there doesn't quite seem to the money in podcasts as one might expect.
In their 2019 Q4 results, Spotify boasted about a 200% increase in podcast streaming hours over the last year...which effectively tells people absolutely nothing about how much podcast consumption is actually happening on Spotify. There are reports that Spotify is overtaking Apple in markets where podcasts already dominate (like Sweden) and inching in other countries where podcasts have a strong presence (like Latin America). Still, according to Mark Mulligan, podcasts were only 1% of Spotify's revenue in 2019, though that can certainly be expected to grow. I still hold a bit of skepticism about how much Spotify can take from the podcast advertising market before the arrival of pressure from Apple and other players but the end result mirrors what Stoller observed.
There's a reasonable uncertainty for record industry workers as Spotify invests more into podcasts and away from music. Yet, podcasts aside, any attempt by Spotify to consolidate the market should be sounding all the alarms for those that desire a non-corporatized audio medium. The pattern of flooding money into tech businesses that exploit a completely deregulated space only for the profits of the very few is being repeated here. And without any resistance, it'll just be a waiting game to see who wins. Apple? Spotify? Google? Who knows. But we know the smallest players aren't the ones who'll triumph. Now, moving onto Spotify's music business...
What is Happening in the "Rest of the World"?
Last year, Tim Ingham at Music Business Worldwide wrote a story that has stayed in the back of my head for months called: 'Spotify is still adding more users across Europe and North America than in Asia, the Middle East and Africa combined'. Not exactly a pithy but still compelling enough. Ingham used Spotify's public data provided by its quarterly reports to discover that despite all of the attention Spotify's given to newer markets in North Africa, the Middle East, and India, a majority of the company's subscription growth is still occurring in Europe and North America.
I followed Tim's lead and made my own chart, which shows the last eight quarters for the "Rest of the World".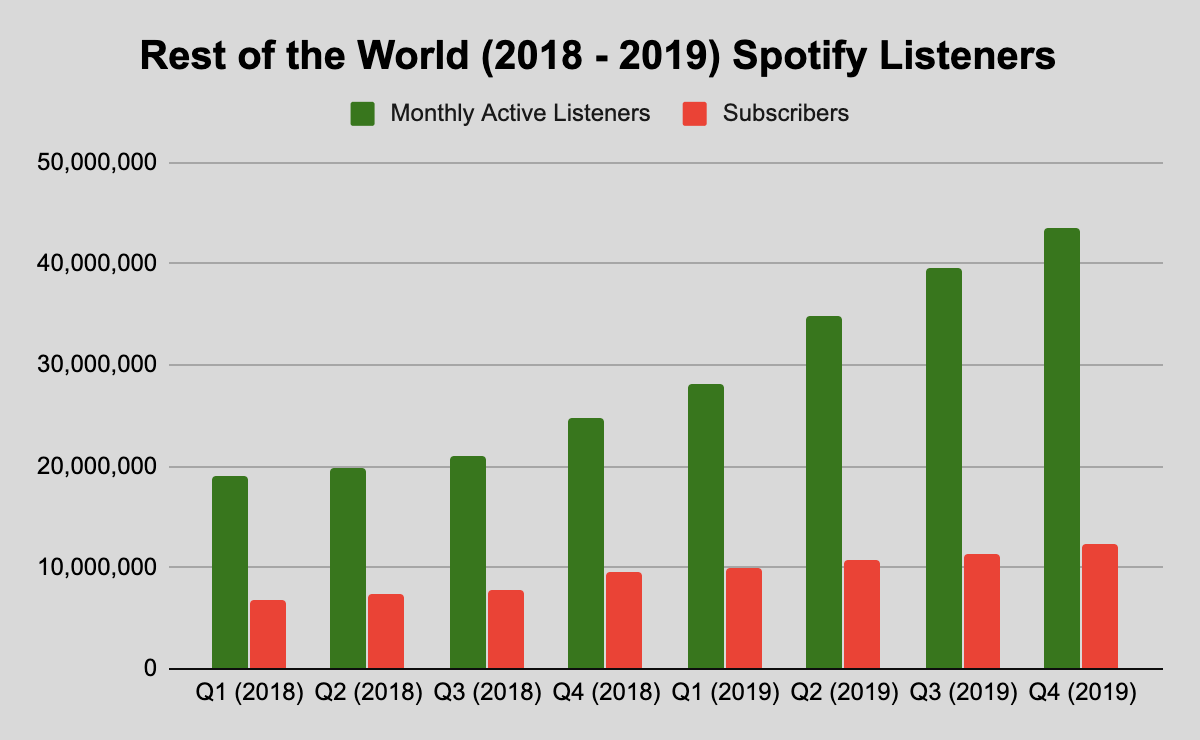 (If you'd like to see charts for the rest of the geographic regions, I made a Google spreadsheet with that and a little bit more information based on Spotify's investor reports. There's far more I could do with data visualization and such, but since I included a bit of this work later in the newsletter, I figured it might be a fun resource for those interested in trying to glean a little more out of company status reports.)
This information only goes back to the top of 2018 but I wanted to highlight a quick record of Spotify's expansion over the last couple of years. In early March 2018, the company launched in Israel, Romania, South Africa and Vietnam prior to going public. On November 13, 2018, Spotify entered into the North African and Middle Eastern markets by launching in the United Arab Emirates, Kuwait, Oman, Qatar, Bahrain, Algeria, Morocco, Tunisia, Jordan, Lebanon, Palestinian Territories, Egypt, and Saudi Arabia. Then in late February 2019, after many months of speculation, it launched in India. That's 18 different market launches since the top of 2018 and the company has grown by roughly 24,490,000 monthly active users and 5,650,000 paying subscribers. While the "Rest of the World" saw an increase of 75% from Q4 2018 to Q4 2019 in monthly active users, its subscriber growth was in line with the rest of Spotify's markets at about 29%.
The comparison between the "Rest of the World" and other markets is a bit hard to quantify because we can't see the breakdown of how these territories fared when Spotify first launched, but I was more interested in a particular talking point repeated by the company. A phrase that always buzzes around Spotify during quarterly reports is ARPU (Average Revenue Per User), which the company's press release stated as:
For the Premium business, average revenue per user ("ARPU") of €4.65 in Q4 was down 5% Y/Y (down 6% excluding the impact from FX rates). A significant portion of this decline was driven by the extension of the free trial period across our entire product suite in the quarter. Excluding the impact of Trials & Campaigns, ARPU would have declined 2% Y/Y as a result of continued mix shifts in product and geography.
I'd assume "Trials & Campaigns" encompasses family plans, but does it include the highly-discounted year-long India plan? What I've long argued (and the numbers here don't really contradict) is that Spotify's success in Europe, Latin America, and North America shouldn't be expected to be easily replicated across other markets of the world where the company faces stiffer competition. Mark Mulligan spoke to that issue in regards to India in that while the "Rest of the World" is Spotify's fastest-growing market, it is lacking on both the ad-supported and subscription side. He suggested a telco partnership, which Spotify so far has never, at least publicly, pursued in the country. An early tip-off, to my estimation, the company wasn't taking the market seriously, as the growth of streaming across the globe is often built upon telcos.
Considering Spotify forecasts losses for the calendar year 2020, there appears to be very little that is fascinating about the company in the coming months. Perhaps more moves into the world of audio but even in that space, as I outline above, it's hard to separate Spotify's strengths divorced from press spin and a deregulated media environment. Daniel Ek can say he bought the next ESPN and I can say Penny Fractions is the next Billboard. It doesn't make either statement true.
Unheard Labor
It was mentioned earlier but Spotify's purchase of the Ringer now puts a second shop represented by the Writers Guild of America, East under the same corporate umbrella (the first was Gimlet). Though Spotify's reportedly stayed out of negotiations with the latter company, their lack of a union contract is certainly a story I've kept my eyes on and will continue to track with the Ringer as well. (Reportedly the deal was for $250 million, so y'all certainly deserve a raise.)
6 Links 2 Read
WMG to IPO: Here's What You Need to Know - Midia Research
What do you need to know about the WMG IPO? Let's start off with the fact that Warner Music Group, the smallest of the three major labels, is owned by Access Industries; a company that bought WMG in 2011 for $3.2 billion and subsequently invested in both Deezer and Spotify. Not that major labels are much more than catalog but when Spotify is already on the market and its success is directly tied into the potential profits of WMG, I'd be a little confused by why not just invest in the middleman. Yet, I'm being shortsighted and realized one could simply invest in both. Why create an artificial binary!
Why Twitch Fans Donate Money To Wealthy Streamers - Kotaku
A nice examination of a Twitch streamer who refused to make money after a certain amount of success and what motivates people to keep sending money to successful streamers. I thought this handled both sides of this fairly well in observing the precarity of work for streamers, while at the same time pointing out some of the more unhealthy habits this could form in viewers.
KFC took over artist profiles to get ads on Spotify Premium - Music Ally
Even though this was simply KFC throwing up advertisements in spaces Spotify typically doesn't allow, this got me thinking of Netflix's attempts at interactive marketing. There's always gotta be a new side to discover for a marketplace.
'We Can't Stop These Kids At All': The Curious Case of a Leaked Hit - Rolling Stone
Contemporary leak and piracy culture continue to bring me great joy, so I enjoyed following the story of Lil Mosey's "Blueberry Faygo".
Here's the Story of the Bizarre 80s Rowboat Song That's Blowing Up TikTok - Vice
I have to imagine a variation of this particular kind of viral story will exist for the coming decades but I've been in a real 80s synthpop mood, so I made an exception to mention this one. Also, it's written by the wonderful Rob Arcand, which gives me an excuse to say people should read his Masters's paper: "Stack Music: Spotify and the Platformization of the Digital Music Commodity". I should devote more time to covering it here.
Taylor Swift's Next Big Deal Is for Her Songwriting - The New York Times
Not a lot of real thoughts here, just trying to keep a slightly better sense of what's happening within publishing. (Essentially a third of Music Business Worldwide stories are about publishing deals, so blame Tim for me putting this here.)
Blog Roll
The Penny Fractions newsletter arrives every Wednesday morning (EST). If you'd like to support it, check out the Patreon page or follow it on Twitter. The artwork is done by graphic designer Kurt Woerpel whose work can at his website here. The newsletter is copy edited by Mariana Carvalho, with additional support from Taylor Curry. My personal website is davidturner.work. A list of my favorite 2020 albums, books, and mixes can be found here. My current job is Curation Analyst at SoundCloud, so all thoughts here represent me, not my employer. Any comments or concerns can be sent to pennyfractions@gmail.com.