An Interesting Case of YouTube Content ID
Hello, I'm not quite sure what cheesy introduction to do here but I guess this meta-open can work for now. This week I wanted to highlight a little curiosity around YouTube's Content ID system and perhaps interesting ways it could be used in the future. A version of this may appear in a regular Penny Fractions newsletter, still mulling that thought over. Some things never change though, so all commentary and feedback should be sent to pennyfractions@gmail.com.
---
In early 2016 Philadelphia rapper Lil Uzi Vert started receiving attention for his clothes and on-again off-again romance, than his pop punk inspired music. Though he did have a Twitter account, his primary medium of public communication was via Instagram. Even if his music eventually found on a home on SoundCloud, it was through Instagram the rapper would play unreleased songs that fans furiously would upload onto YouTube. The act of preserving his yet-to-be-released music provided semi-permanent to what was intended to be ephemeral moments.
Lil Uzi Vert never stopped playing songs for his Instagram audience and the result is that YouTube is now littered with song clip compilations. The end result is that if you remember a Lil Uzi Vert song preview from an Instagram live, then there is a rather good chance it'll be online in some form.
(Aside here: If I was going to champion what makes YouTube Music special compared to Spotify, etc. it'd be this but I'll get more into that later.)
Now this isn't a particular new habit of releasing songs early or having them leak out in such a manner. I distinctly remember multiple versions of Kanye West's "Love Lockdown" that leaked online where West kept adjusting and attempting to perfect the drums. Years ago the innovative trap producer Lex Luger would go on livestream and just smoke blunts while playing endless unreleased beats. Chief Keef even did the same in the mid-2010s where fans would be anxiously awaiting for songs to drop because they already heard early versions either on Instagram, Snapchat, or however someone with camera recorded Keef's music.
Earlier this summer I decided to watch a few of these compilation videos that featured all of these Lil Uzi Vert unreleased tracks because even if I've heard the song a hundred times I don't even want to think how many times I watched his early Instagram uploads of same tracks. Once I finally clicked on the videos and I started to notice in the description a long string of Content ID tags, which is the system YouTube uses to identify copyrighted material and in this instance songs.
I kept scrolling down these videos and clicked to the licensing details and saw numerous songs where their rights were being claimed. One video called "Lil Uzi Vert Best Snippets That Released!!!!" featured five songs tagged through Content ID, but one stuck out to me.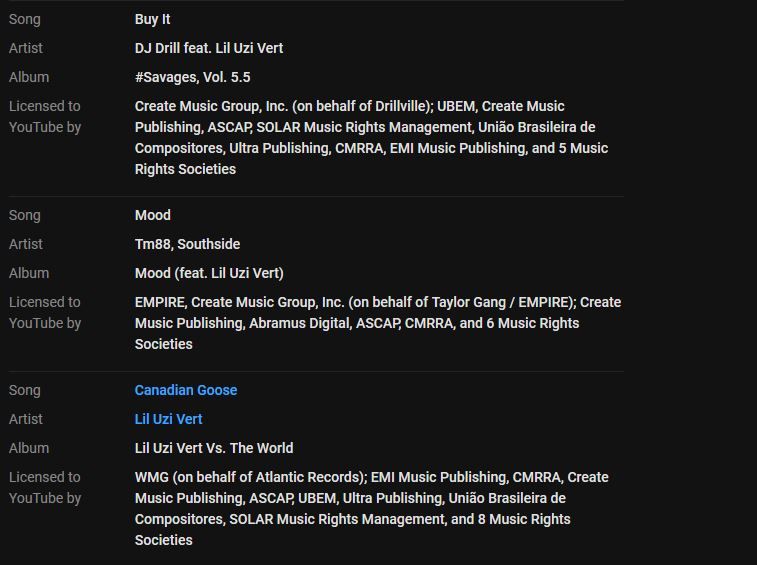 There was a Content ID for the song "Mood" a collaboration between Uzi and the Atlanta producer TM88, who did Uzi's biggest hit "XO Tour Lif3." What was odd about this tag is that the song wasn't released until January 2018, while the video was uploaded on November 2016. This is YouTube's Content ID system working as intended but truthfully it never occurred to me that this system could be effectively be used to back monetize content, which wasn't at the point of being uploaded intended for official release. A few hypothetical questions jumped into my head about the ethics to this system and the ways there are interesting loop holes to examine.
What exactly happens if there is a major songwriting or production change between the unreleased demo and what the Content ID is collecting? What if another rapper hopes on the song down the line but the version being caught in the Content ID doesn't include that rapper?Now these Lil Uzi Vert compilations aren't getting millions of views and they have many songs being ID'd so the amount of payout would be rather small but it does highlight a few different potential issues.
Now to flip these questions: If an artist understood this about how the Content ID system works then perhaps there is an interesting question over actually leaking songs early to produce buzz. The reason would be that while the initial videos might not be monetized once the song is officially out Content ID will simply catch the music and provide a way to effectively monetize content from the pre-promotional cycle. Though this could open questions if a song removes an artist or producer between the leak and the official release and someone is profiting off a song featuring someone else's work but that work just happened to no make the final cut.
That's what initially excited me about Instagram stories stickers for music, as it opens a new and fairly unexplored way to make money through music. I'll admit there is a bit of constant surveillance state around this form of tracking music consumption that isn't personally something I love. Yet, if we're going to live in a world of endless data tracking, then I do think there is a lot of space to think about a platform like YouTube beyond traditional lyric or music videos.
Two Weekend Links
Items From Riccardo Tisci's Debut Burberry Collection to Be Sold via Instagram for 24 Hours - Highsnobiety
This isn't a really new trend in terms of fashion but just considering how much happens with music on Instagram I'm surprised I haven't heard of more partnerships like this happening on the platform. If I've missed them, then certainly let me know.
'Internet is under threat': what you need to know about the EU's Copyright Directive - Polygon
On Wednesday Europe passed a number of new copyright legislation that could potentially reshape how we understand content distribution on the internet. I'll admit that's a little hyperbolic but this Polygon piece did a nice job of attempting to explain some of the potential ramifications.