Instagram is Still the Future of Music Streaming
Hello, everyone! I'll keep this introduction short, but I wanted to say thanks to everyone for responding to the reader survey over the last few weeks. I know it's cheesy but I'm still working out the best way to promote my Patreon page, which helps cover email costs and paying my copy editor. Self-promotion aside, I hope y'all enjoy this screenshot-filled look at Instagram.
---
A couple of years ago I used to joke that Instagram was the "best" music app. In 2019, I've mostly disconnected from the app but still can't get over how it fully encapsulates what I imagine to be the real future of music streaming, decoupled from playlist fantasies and needless marketing budgets spent on Time Square billboards. That was made clear when I re-downloaded the app and received a notification saying the rapper Lil Xan started a live stream. After one click, I joined thousands of other people who got a direct window into the life of a seemingly bored young adult just looking at this phone like the rest of us.
This kind of interaction isn't unique to Instagram—YouTube, Twitch, etc. offer a similar ability to live stream—but the seamlessness of jumping across the app into this live stream still feels unmatched. This reminded me of why it feels like rappers only communicate via radio show interviews and Instagram live videos: no other mediums offer such instant intimacy.
Did You See My Story?
Back in 2016, Instagram introduced Stories, which were a wholesale rip-off of Snapchat's own ability to record brief 10-second clips and allow fans to watch and comment on them. The simplicity of the feature feels so distant, as scrolling through Stories in 2019 is a cacophony of advertisements, reposts, special filters, weird memes, and far less of the boring slice-of-life content I originally enjoyed. Everyone's social media feeds will vary but opening the camera to upload to Stories presents an almost overwhelming number of options for users. The initial one I wanted to highlight was the ability to directly upload ten second clips of songs into one's Stories. I'll admit that not many people I follow use the feature, but even with a lack of usage I found it an interesting area of the app to explore. Unsurprisingly, trap and Latin pop appeared to be the most popular music genres used in Stories, with a healthy amount of Indian pop in the mix. The influence of Songza on mood-specific categories (though often credited to Spotify) can be used in case one is stumped for the correct song to express happiness. Instagram was thinking of you!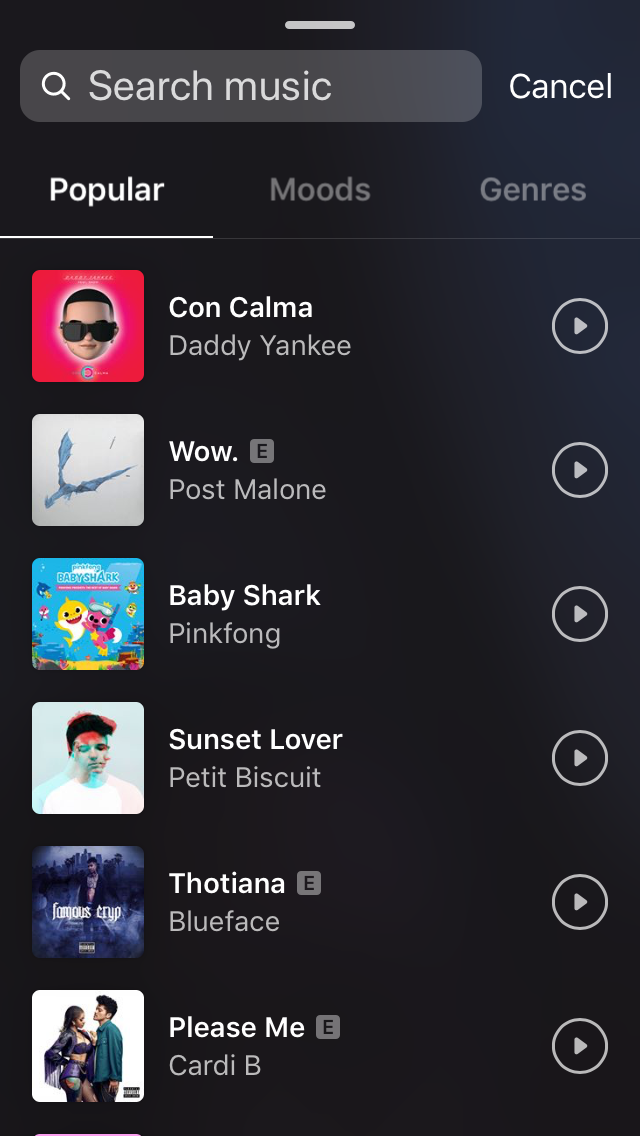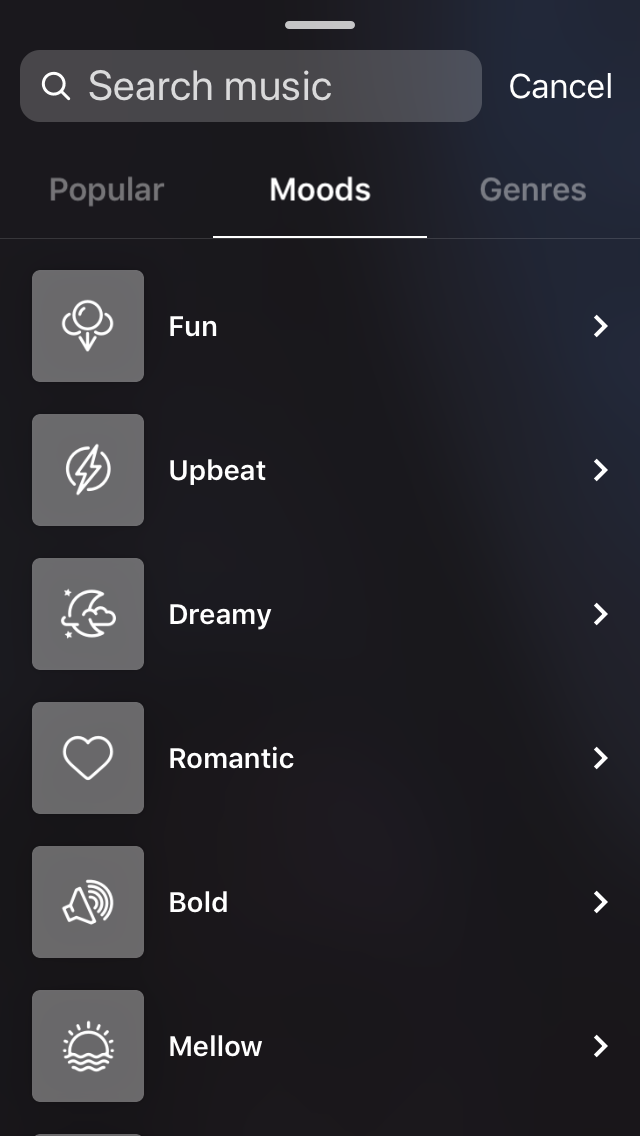 The other newish music integration is the ability to link to songs from Spotify and other streaming services to Instagram Stories, which I'll admit affirmed some sensory overload while scrolling through the app. But it did feel like a natural extension of people screenshotting their favorite songs. Though a lot of work goes into these types of features, many of them, naturally, felt like continuations of native user behavior on the platform but now properly monetized; so even one's personal expression to post a song is engaging with the market.
Swipe, Ad, Swipe, Swipe, Ad, Swipe, Swipe, Ad
There is no way I could write about Instagram, in particular about Stories, without mentioning advertisements. My targeted ads kept pushing me towards music production classes, upcoming concerts, new albums, cheap headphones, and endless knockoff clothing items. I've heard artists can get good traction from Instagram advertisements, which sounds right even if I find them annoying, as brand advertisements further blur into normal Stories content. That only reinforces a feeling that my entire Stories experience is just an ad for a product or lifestyle that is only a single swipe away (the integration of shopping links into the app only furthers this effect).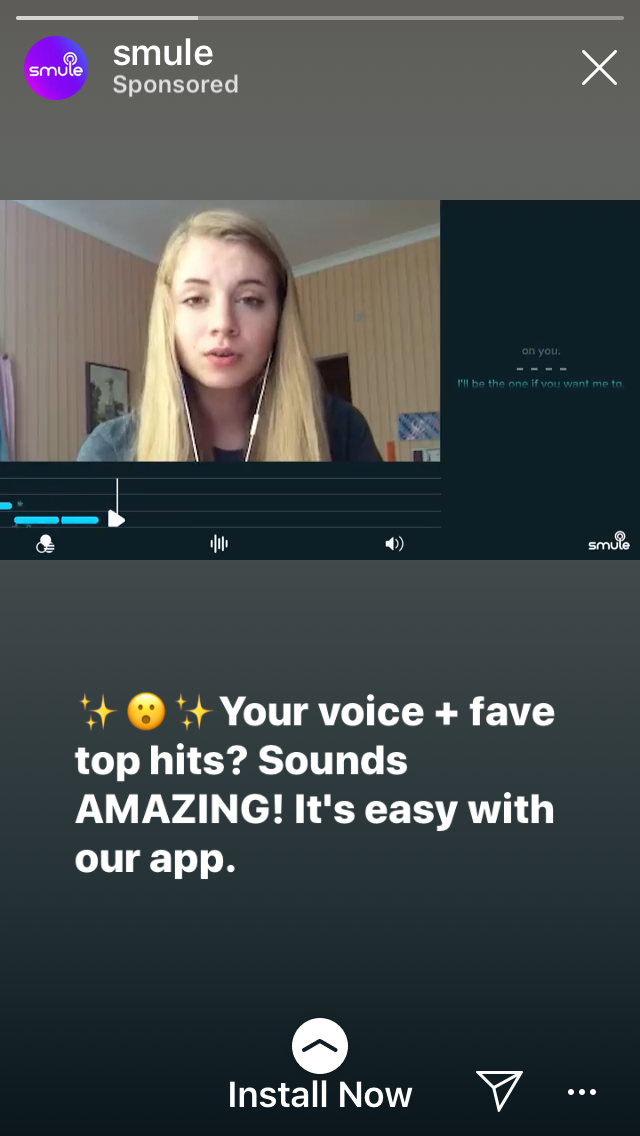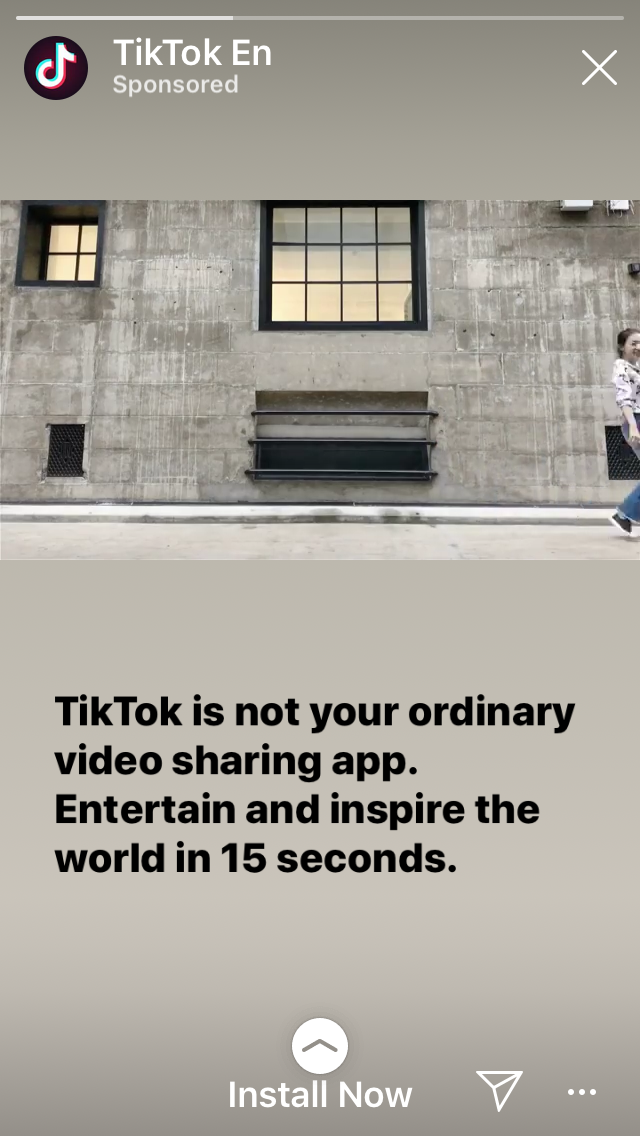 This feeling of everything being for sale undermines one of my favorite aspect of Stories, which previously were moments of a rapper like 21 Savage driving around listening to 90s R&B at 1am. Those videos help show a different side of artists that really did feel unscripted, and while that content still exists, the app increasingly feels like it's pushing artists to make every moment a fight for getting the attention of their fans. I'd be remiss to say that this dynamic is one that I'm sure is familiar to artists/managers who remember Facebook before one needed to buy access to their own followers. If Instagram is pulling in that direction, even Stories after a while can feel like watching endless undisclosed advertisements back-to-back. That the most unfiltered way of engaging with artists is so mired in ways to insert advertisements is a bit frustrating...but such is capitalism.
Now artists are seeing some return for the platform that is constantly monetizing. Digital Music News reported last year that Facebook's licensing deal for these songs that appeared in Stories was a blanket deal for specific publishers, where the company offered a single lump sum rather than paying out per play. Yet, this still isn't an ideal deal for musicians that desire compensation for their work to be compensated on a still relatively new, at least towards music integration, platform. My concerns around monetization that I mentioned a couple of weeks back in reference to TikTok still apply here, except to a slightly lesser degree since Instagram isn't driven by music like TikTok is. Yet that's where I wanted to end. I understand why so much conversation is centered on music-first streaming services; but Instagram can absorb so much of how artists communicate with their fans that I feel the app could use more examination in the public discourse about the digital-first world of contemporary music.
Songwriters & Streaming Services
Normally this is the kind of content I'd put on my Patreon page but I wanted to rant, albeit quickly, on the recent news around songwriters and streaming services. The basic gist is that Amazon, Google, Pandora, and Spotify are appealing a raise to the Copyright Review Board that would increase the amount that streaming services must pay to songwriters by 44% over the next five years.
This story got spun into an idea that these odious tech companies are suing songwriters because the National Music Publishers Association, which represents music publishers (and, in turn, artists) went on the offense with incredibly charged language aimed at these tech companies. The industry backlash was swift but Spotify's response on Monday was nakedly deceitful. The statement presented five hypothetical questions, which all amounted to, "We love songwriters and want what's best for them, which in this case is not to pay them more." I'm joking here, but it's harder to find such an empty calorie-filled response to public outcry. The NMPA is smartly using a general mistrust of tech companies to aggressively punch upward and if it results in songwriters scoring more money then that's great. Still, the NMPA represents music publishers, who aren't always the best advocates for artists, so while it's good to get more money from companies worth hundreds of billions of dollars, the NMPA is still looking out for its best interests.
Corrections
I wanted to clarify what I wrote last week about Spotify's early relationship with major record labels. I said that these record labels were Spotify's "earliest investors", which isn't correct. Rather, when major record labels agreed to allow Spotify to use their music, each of the labels got some equity stake in the company. Here is the section of the book I'm referencing:
Later, information leaked that the biggest record companies had signed a deal that guaranteed not just a certain level of royalties but also equity in Spotify, amounting to a cumulative 17.3 percent share, a proportion which has since diminished with each new funding round. The fact that major record companies own shares in Spotify has complicated every discussion about fair compensation for artists, songwriters, and independent record labels. The dilution of shares in this round did not alter the basic balance of ownership.
I just wanted to be clear about that fact because while this certainly influenced the amount of sway major labels had over Spotify, the company was still primarily funded through venture capital, not record labels.
6 Links 2 Read
CTM 2019: Protocols—Duty, Despair, and Decentralisation by Mat Dryhurst - CTM Festival
I quoted Mat Dryhurst a few weeks back and wanted to include the excellent talk he gave at the CTM Festival, which offers real critiques of music streaming from the artist, rather than the executive, perspective.
Why Anghami, with over 1m paying users, doesn't feel threatened by Spotify in the Middle East - Music Business Worldwide
Most executive interviews are worthless, which I why I never include them here. However, Elie Habib and Eddy Maroun, the co-founders of Anghami, did break some news here by saying that the streaming service has 1 million paying subscribers. This reaffirms my doubts about Spotify's initial claim about getting a million users in India being anything other than public relations hot air... but maybe the company could just release the numbers for the public to know :)
South Korea Has 8.5 Million Paying Music Subscribers — But Physical Is Growing, Too - Digital Music News
The headline captures nearly all of the news here, but it is nice to remember that the logic of streaming/downloads destroying physical sales doesn't need to be gospel.
Elizabeth Warren Fires a Warning Shot at Big Tech - Wired
My American bias is showing here, but the fact that 2020 democratic candidate Elizabeth Warren proposed a plan to break up and regulate major tech companies feels like kind of a big deal. Wired also reported that Google's ownership of YouTube could be under examination. Fun shit, get hyped!
Chicago Symphony Orchestra Goes on Strike Over Pay, Retirement Benefits - NBC 5 Chicago
I know this week is running a little long, so I'll keep this short. I'm in solidarity with the Chicago Symphony Orchestra and I hope that they win the pay and benefits they deserve.
The New York Times Magazine: 25 Songs That Matter - Travis Scott "Sicko" - The New York Times Magazine
I've wanted to read a breakdown of "Sicko Mode" since the first time a friend texted me about this sure-to-be progressive rap classic. The song didn't disappoint upon subsequent listens, so I'm happy to finally get such a lavish breakdown of the two dozen people who received writing credits on the song.
The Penny Fractions newsletter arrives every Wednesday morning (EST). If you'd like to support it, check out the Patreon page. The artwork is by graphic designer Kurt Woerpel whose work can be found here. The newsletter is copy-edited by Mariana Carvalho. My personal website is davidturner.work. Any comments or concerns can be sent to pennyfractions@gmail.com.