Spotify's Perfectly Calculated 'Wrapped' Campaigns
Hello, Hello, hello readers! Since the summer, I've been working on an essay called NuMusic: A Gig Economy Solution, in which I work through many of the topics that have animated this newsletter the last couple years. I decided to self-publish a few copies, so if you're in New York City and wanna come to my event for it, mark down December 11th on your calendar. Location details will be shared in the coming weeks, so def reach out if you want to come. My other update is that I'll be off next week, November 27th, because the American holiday Thanksgiving is the following day. So, I'll be back on December 4th. Let's dive into a Google Trends chart!
---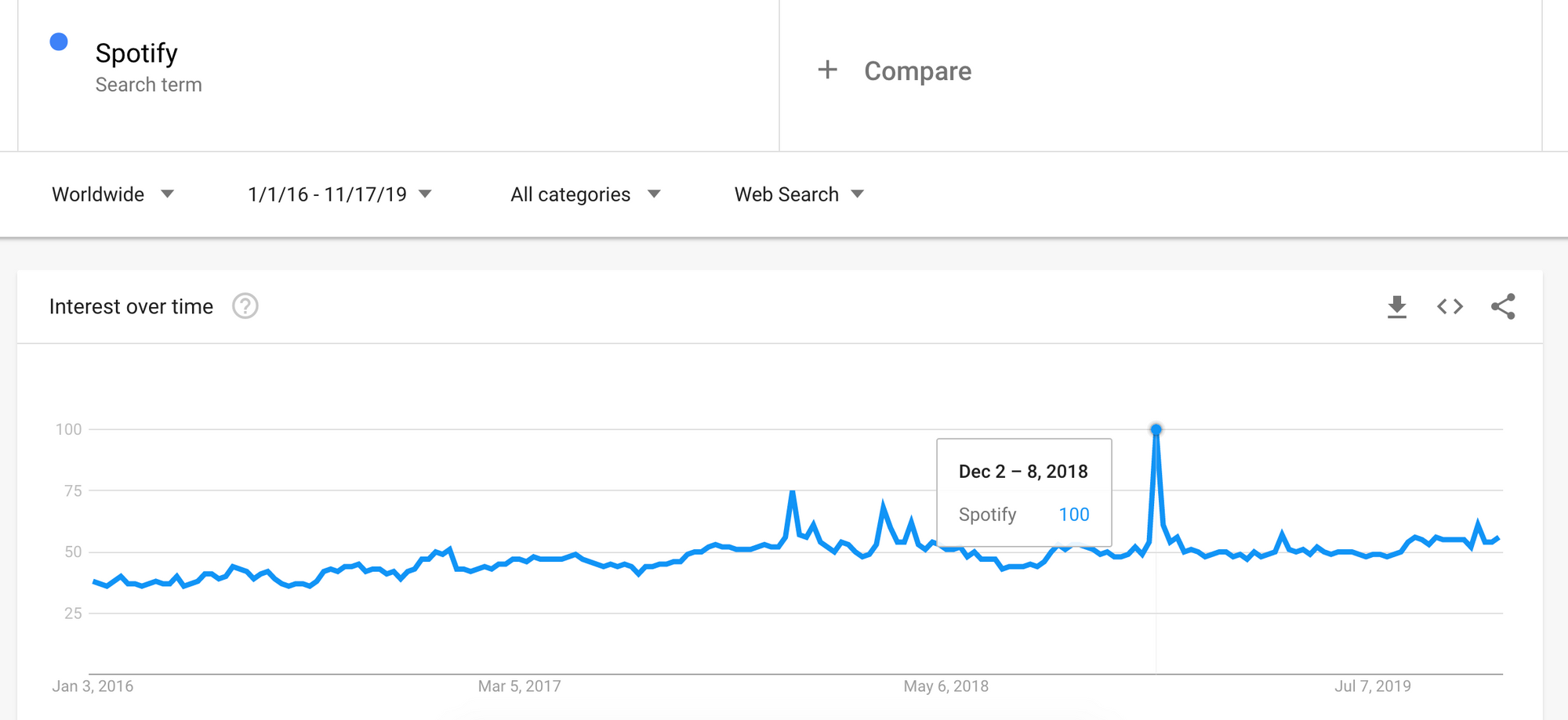 The two biggest spikes in searches for Spotify over the last few years correlate to Spotify's early December Wrapped campaigns, which provide artists and listeners with data-driven summaries of their Spotify year. While I loathe carving out too much time to think about brand marketing, this campaign never left my head. Thus, with another holiday season approaching, I wanted to unpack it.
A Perfect Marketing Package
In 2015, Spotify rolled out its first major end of year campaign called "Your Year In Music", which involved an interactive website where users could dive into their own music listening data from the year (top songs, artists, etc.). Stink Studios, formerly Stinkdigital, helped create the campaign and website, an extension of the data-driven signage (also created by the company) installed around New York City and Los Angeles to highlight hyper-regional listening habits. Stink Studios won a number of Webby awards for the campaign and helped set the data-driven template for what's become the company's most beloved marketing effort.
(An aside: I never particularly enjoy data-driven advertisements like the ones that are plastered across the MTA, as they often hold strange marketing-oriented assumptions about the neighborhood and its people. For example, Stink Studios, summarizing the campaign on their website, says: "Who knew hipster Williamsburg was home to so many Beliebers?" The assumption that Williamsburg didn't listen to Justin Beiber doesn't make fucking sense. He put out one of the most popular albums (Purpose) in 2015. By 2015 Williamsburg already was a hyper-gentrified neighborhood fully displacing many of the "hipsters" that called it home only a decade prior. And, perhaps most importantly, Spotify is by far the most mainstream method of music consumption. This data doesn't reflect vinyl sales, Bandcamp purchases, pirated albums, or any number of ways "hipsters" are probably listening to music not available via a Spotify playlist. The 2015 campaign's myopic messaging would seep into later programs it helped inspire.)
In 2016, Spotify introduced the Wrapped campaign, which did away with the personalized listener stats (to some users' disappointment) and instead just produced playlists and now-dead YouTube links to promotional videos. So in 2017, Spotify not only restored the ability for fans to peer into their own listening habits, but also brought in artists with little graphics that displayed their own year-end fan engagement. Last year, Haley Weiss wrote a rather in-depth piece in the Atlantic diving into the campaign's marketing savvy as well as the questions it raised about personal data usage (emphasis mine):
In a year when other tech giants were taken to task by the government, the market, and the public for their privacy practices, it's hard to imagine anyone would respond with such enthusiasm if Facebook, Twitter, or Google started sending out annual summaries of everything they've got on us.
That's largely because Spotify feels different. Aside from some disputes over royalties that haven't significantly hindered the company's growth, Spotify is outwardly tame.
Weiss hits on the idea that Spotify's data deep dives allow listeners to recontextualize their consumption habits in ways that, while clearly more useful to a marketing department, are fairly innocuous. Yet, the reason I highlighted that section above is that this marketing campaign helped reveal a rift between how listeners and artists understand the company.
Christmas Coal For Artists?
Unintentionally, the Wrapped campaign opened up a door for Spotify to receive pushback due to how the company's traditionally compensated musicians on the platform. Spotify's statements to the press evidenced the disconnect between the meager payouts and the campaign narrative. Here is what Charlie Hellman, Spotify's Vice President of Product, told Billboard when discussing the campaign (again, emphasis mine):
[We] wanted to bring these numerical achievements to life in a really human way, so when we talk about the total amount of people that listen to you, we actually frame that in terms of a venue size. So if you're a super star artist we tell you you could fill Wembley Stadium 100 nights in a row with your fanbase, but for a smaller artist it might be like you could sell the Mercury Lounge two nights in a row.
Last year I wrote about Spotify's bullshit Monthly Listeners stat and recently I covered Nancy Baym's essay 'Data Not Seen' because an endless barrage of useless data is hocked at musicians. The company frames this as information that is meant to empower artists, but there is no value in telling an artist who's getting a check for a hundred dollars that all their "fans" could fill up Madison Square Garden three nights in a row.
Artists took to Twitter and other social media platforms to express their displeasure with the Wrapped campaign, mainly because it's hard to square the idea that an artist could play to hundreds of thousands of people with the reality that they still only make about $0.006 per stream. The contradiction between artists' supposed popularity and their material reality is in fact heightened by this particular campaign. Whereas it allows consumers to tell a story about their musical journey, for artists it tells a story about a career unachieved (often one that could never be achieved).
The reason I cited the Google trends for Spotify is that all of the headlines devoted to this campaign indicate it's one of the most successful branding initiatives around contemporary music streaming. The campaign communicates the idea that Spotify is a tech company that knows more about your listening habits than you've ever known, empowers fans to tell the story about their music consumption over the last year, and represents a rare moment where music listening habits turn outward-facing. The problem is that it only furthers the contradiction for artists who see that allegedly one million people loved their music in 2019, only to realize that this degree fandom isn't reflected in the checks arriving from the company selling that message.
Unheard Labor
Hollywood Reporter did a nice summary of the labor struggle happening right now in the world of television and streaming platforms. The American Federation of Musicians still appears to be lagging behind all of the other unions infighting within this territory, but there could be some active labor struggles on the horizon, so perhaps some cross-union solidarity could be formed. (I hope!)
In a couple of tweets, New York Congresswoman Alexandria Ocasio-Cortez connected the Taylor Swift and Scooter Braun story to larger issues of private equity firms destroying thousands of American jobs and ruining lives. (Braun was able to buy Big Machine with the help of the Carlyle Group, a private equity firm.) Gotta be honest—this feels like a stretch connection I'd normally make, but her tweets got the job done.
Lastly, Adult Mom, It Looks Sad., and other bands on Tiny Engines appear to have gotten their masters back, so congrats to all those bands. Also, p l e a s e Kickerstarter management—recognize the u n i o n!
6 Links 2 Read
Apple Plans Mega Bundle of Music, News, TV as Early as 2020 - Bloomberg
Get In Loser, We're Hurtling Unchecked Towards Platform Capitalism.
Bits of ByteDance's Streaming Plans Emerge in New Report - Billboard
A new challenger is gearing up to enter the music streaming space. I wanna say I'm still skeptical about the impact of TikTok, but if Bytedance will represent a new player in the streaming economy, I'm sure artists will be screwed—though it will make this newsletter far more interesting next year.
The Next Music Gold Rush: Mark Mulligan's Music Tectonics Conference - Music Tectonics
Mark Mulligan correctly understands that streaming is starting to stagnate and is now seemingly all-in on monetized fan-to-artist connection as the real growth area in the music industry. I wrote the same thing nearly two years ago...but hey, perhaps this means the rest of the industry will be on the tip of caring about labor exploitation in 2023.
Are DJs Actually Just Exploiting Producers? - First Floor
Shawn Reynaldo's newsletter First Floor is a healthy dose of music journalism, media critique, and community reflection, all from someone deep within the electronic music space. Last week, he wrestled with a rather thorny question about the role of the DJ in contemporary music and how their labor relates to the labor of the producers, whose work they're often profiting from. He doesn't arrive at any pat answers but it's a discussion worth continuing.
The New Dot Com Bubble Is Here: It's Called Online Advertising - The Correspondent
I do keep a fairly elastic band on the topics that I discuss in Penny Fractions but the world of online advertising is probably a bit too removed from the central issues to cover more deeply. However, I cannot understate my enjoyment of reading an article that states the rather obvious fact that online advertising is a shameful practice that no one wants to believe is a scam.
The Spotify Blacklist Continues ⁠— Artist Faces Retaliation After Magazine Exclusive - Digital Music News
Spotify is deciding to actively hurt artists who want to do business with other publishers by keeping them off playlists. Honestly, I've called for government regulation of these platforms and it cannot come soon enough, because this an absurd abuse of platform power.
The Penny Fractions newsletter arrives every Wednesday morning (EST). If you'd like to support it, check out the Patreon page or follow it on Twitter. The artwork is by graphic designer Kurt Woerpel whose work can at his website. The newsletter is copy-edited by Mariana Carvalho, with additional support from Taylor Curry. My personal website is davidturner.work. My current job is Curation Analyst at SoundCloud, so all thoughts here represent me, not my employer. Any comments or concerns can be sent to pennyfractions@gmail.com.