Triller: Don't Believe the (Fledgeling) Hype
Hello, readers new and old! My previous newsletter on Billie Eilish was cited in the Atlantic, Guardian, and Slate post-Grammys, so I got a number of new followers, which is exciting and a nice excuse to promote my previous work. In particular, if you enjoyed that newsletter please do check out my pieces on the history of digital music streaming, music piracy, and even Lil Nas X. I'd also like to highlight I have a Patreon to support this newsletter if you'd like to contribute. Finally, for any college professors reading this, I'm always open to speaking to your classes! Enough self-promotion, let's dive into the rapidly growing short-form video app…Tik—wait, Triller!
---
Last fall, the Wall Street Journal reported the three major labels (Sony Music Entertainment, Universal Music Group, and Warner Music Group) held small stakes in Triller, a short-form video-sharing startup. This was reported within the context of the company receiving a new round of funding, which the Journal framed by pitting the company against another short-form video app: TikTok. We'll return to TikTok, but before going through Triller's origins, it felt important to highlight the direct connection between the app and the music industry, which until late last year was never publicly reported. Now let's get this story started…
Keep It Triller
Triller was initially launched on July 23, 2015 by David Leiberman and Sammy Rubin, who previously worked on the mobile edutainment app Mibblio and Disney Frozen: Karaoke. The other name mentioned in the company's first press release was Colin Tilley, a music video director who's worked with Justin Beiber, J. Balvin, Nicki Minaj, DJ Khaled, and countless others. That connection with Tilley is what led to early coverage of the app in places like Complex and Gizmodo (two places I've previously written) within its first week of launching. Only two months later in September, The Source reported the app was used by Kevin Hart, Justin Bieber, and Selena Gomez. Suddenly, an app built by a relatively small team hosted over 33 million user-generated videos and was available in over 140 (!) countries, all before the end of 2015 (according to another company press release). Those celebrity endorsements must've made an impact, because in August 2016 TechCrunch reported that the app had reached 10 million downloads. Little news swirled around Triller in 2017, but luckily 2018 proved to be more eventful.
A February 7, 2018 press release contained a treasure trove of new Triller facts. The company reportedly reached 23 million downloads and raised $5 million in Series A funding from Carnegie Technologies, on top of a previously unreported $4.5 million of seed funding from angel investors. Still, the most interesting part of the release was this (emphasis mine):
The funds will be used to build out the platform's AI-backed production technology, which automates the video editing process to drive better talent discovery on Triller and across social networks. Triller plans to deploy a machine learning algorithm that optimizes user engagement through music, social and watch behavior.
Nowhere in this press release is Colin Tilley mentioned, which is a bit striking given the role he played in the company's narrative only a couple of years prior. There was also the phrase "AI-backed production technology," which was never mentioned in early press coverage outside of the initial press release (emphasis mine): "...users to create lip sync videos for their favorite songs with an editing algorithm that uses intelligent audio and facial analysis to decide when to cut." What is and isn't "artificial intelligence" is a worthwhile discussion, but what becomes apparent in early 2018 is the company's step away from its direct music industry ties, as it rebranded as a technology business. That might've been why the press release toutes celebrities "organically" using the app, because everyone knows famous people never engage in paid promotion. (The same paragraph boasts how Triller's done "zero marketing and ad spend to date," which might be laying on a little much this particular angle.)
Despite over 20 million downloads, in 2018 Triller still didn't have an official licensing deal with a single major label. On June 28th that changed when the company announced its first global licensing deal with Universal Music Group. (I'll note that the press release boasted about 28 million "users," which is a fairly different metric than the "downloads" that were previously reported, but who's counting…obviously me.) Before we leave 2018, Music Ally reported a small detail about Musical.ly, before it became TikTok, in its story on Triller: "Musical.ly managed to cash out in an acquisition before securing a full set of label deals, which can only sharpen rights holders' desire to get in early on apps that could become the next big UGC music craze. A startup like Triller that's gaining traction can expect intense incoming attention, then."
Who Cares About Triller?
Let's take a quick look at a Google Trends graph from 1/1/2015 to 1/1/2019 for a few apps: Musical.ly, TikTok, and Triller.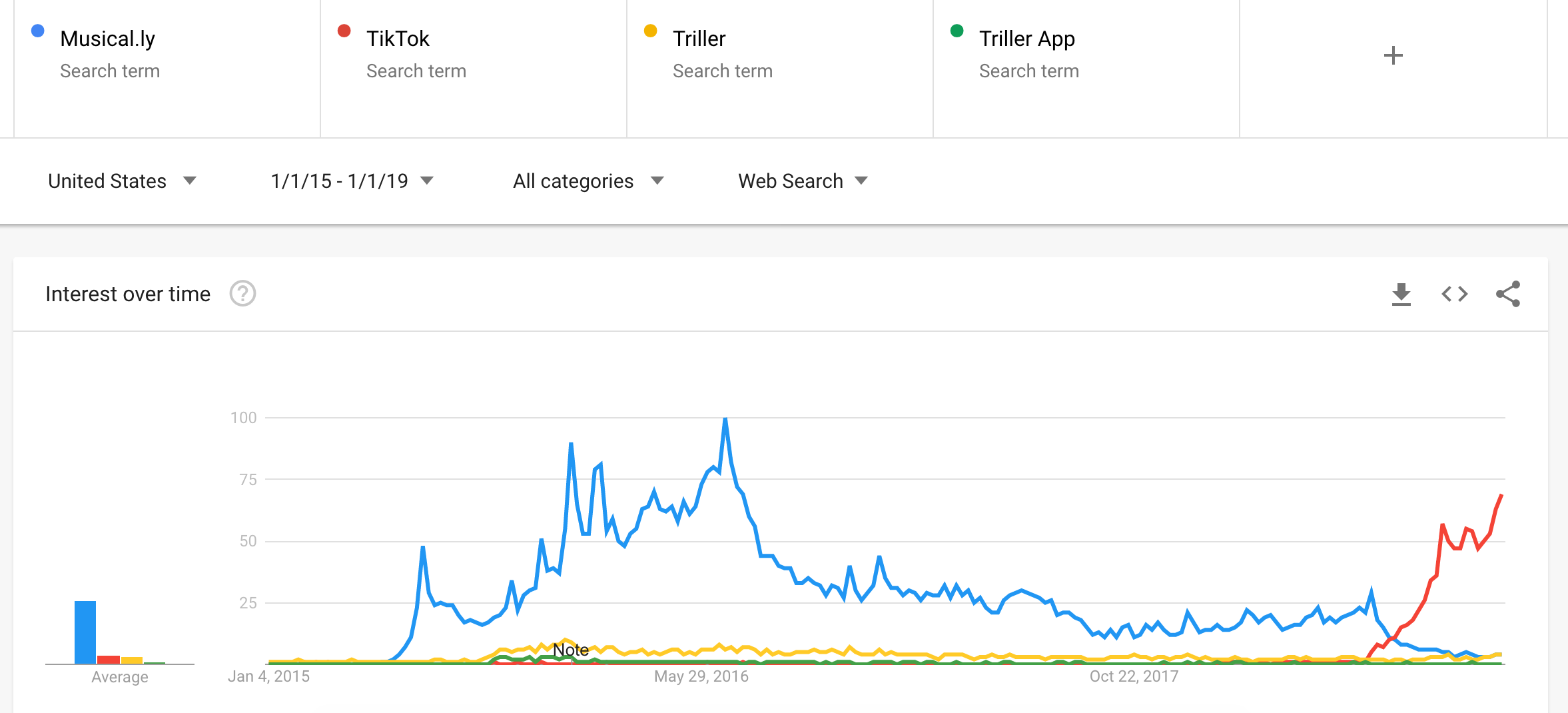 By the end of 2018 TikTok was clearly hitting a new level of popularity compared to its peers, but even when TikTok was still Musical.ly it was dominating over Triller. Yet, as Music Ally reported, the company never reached licensing deals with the majors before it was acquired, while Triller (again, allegedly funded by the major labels) was suddenly announcing its first deal. By late 2018, Triller appeared to be sparking a somewhat unique trend with 10k.Caash's "The Woah." The app even got a very thin write-up in Pitchfork, in which the author attempted to connect Triller to previous moments involving popular rap dances but struggled to find genuine examples from the platform.
The extremely short period in the sun for Triller was quickly overshadowed by TikTok with Lil Nas X's "Old Town Road," DaBaby's "Suge," and a number of other major and minor hits. If there was a question about what was the most popular short-form video app, by the end of 2019 that should've been an easy answer: not Triller. Again, here are the Google Trends from 1/1/2019 to 1/1/2020.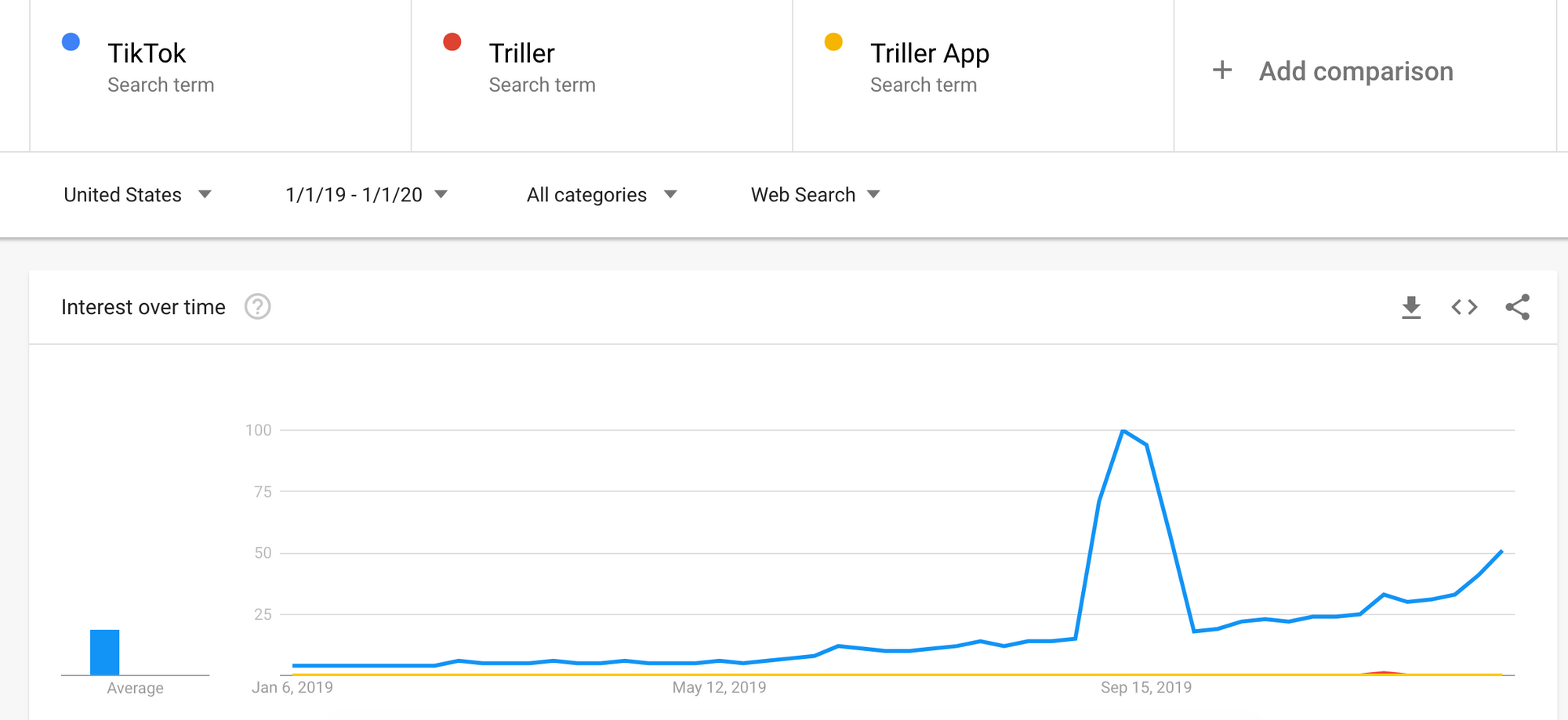 Triller barely registers. So, if a startup appears to be losing even more ground in its sole marketplace, what options are on the table? New features? Innovation?
A Pivot to Xenophobia
Last October, Mahi de Silva, Triller's recently appointed chairman, said to Billboard, "As a U.S company, Triller is laser-focused on the protection of our community from the prying eyes of nefarious parties or political agendas which has been a clear issue among our competitors." This was an explicit shot at TikTok's ongoing struggles with the United States government. Now, shit-talking amongst executives isn't annoying to me in theory, but just purely leaning into anti-Chinese sentiment is a bit unnerving.
Ironically, a couple of weeks later the #MAGAChallenge appeared on Triller, which, according to The Wrap, upset a few employees enough to try and remove the pro-Trump rap from the platform and caused at least two workers to resign in protest. Mike Liu, the company's CEO, provided this blathering quote in response to the story: "Triller doesn't endorse any political parties. Triller is agnostic to politics, religion and does not censor content. We welcome everybody to make Triller videos and enjoy the platform. See you on Triller!" If the company is willing to push xenophobic rhetoric about its competition, I don't think one can claim political agnosticism. Yet, there may be a financial reason why it's suddenly making such hard contrasts with TikTok.
In October, Billboard reported Triller reached 60 million downloads and 13 million "active monthly users," which was the first time in over four years the company provided a non-total download metric. The Wall Street Journal noted many of Triller's investors came from Hollywood and finance. This reflects an argument made in the book Spotify Teardown: Spotify's priority was never going to be artists but rather its corporate backers, be it major labels, advertising companies, or finance. Triller appears locked in a similar business model, though it lacks one key element: subscriptions, which make up the majority of Spotify's business. This is a fundamentally precarious business, as most advertising-based video and music streaming platforms burn through cash well before profitability enters the equation. (Note: Earlier this week, Google, for the first time ever, shared how much YouTube made in a year, and that's a platform with nearly 2 billion users.)
A couple of months later in December, suddenly Triller received a new round of investment and reported hitting 75 million users and 26.5 million active monthly users. (Just for context, in October, about 21.6% of the people who downloaded the app could be counted as an "active monthly user," and in December that jumped up to 35.3%…in December…which sounds totally legit.) Now, who were these investors…to quote Music Business Worldwide:
Snoop Dogg, The Weeknd, Marshmello, Lil Wayne, Young Thug, Kendrick Lamar, Baron Davis, Tyga, TI, Jake Paul and Troy Cartner; mega-music managers Gee Roberson (Co-CEO of The Blueprint Group), Moe Shalizi (founder of The Shalizi Group), Wassim Sal Slaiby (CEO of XO Records), Amir Cash Esmailian of XO, and Ash Pournouri (former manager for Avicii).
Also joining as investors and strategic partners are Shawn Gee (President of Live Nation Urban), Anthony "Top Dawg" Tiffith (Chief Executive Officer of TDE), James Prince (Chief Executive Officer of Rap-a-Lot Records), and Believe Digital, among others.
Open Triller right now and you'll notice nearly all of the promoted content is by people with direct investment in the company. That's one way to democratize video sharing! Triller shows very little organic support if you look a bit closer at their stats. The numbers in press releases often appear to be pulled out of thin air (26.5 million monthly users is "coincidentally" the exact number TikTok reported in early 2019, though if you open the App Store right now, TikTok is #3 and Triller isn't in the top 200). The combative public tone feels odd until one remembers that while all three major labels are allegedly invested in Triller, they are still negotiating with TikTok over licensing.
Even in the highly financialized state of the global music industry there can be messy tensions. Bytedance, in particular, is a bit outside of the web. While Triller, a US-based company, might've started as an app to make short-form videos, it now exists mostly for the three major labels to (again, allegedly) wag their collective finger at the runaway success of TikTok. The company, while still figuring out licensing agreements with the majors, announced its first with Merlin last month. No wonder Triller talking heads evoke concerns over national security, how else will major label C-Suites hasten getting those sweet TikTok dollars.
Corrections
This is a quick apology for accidentally duplicating a paragraph in the last newsletter. I corrected it for the web version, but sorry about that!
Unheard Labor
Quite a bit of news to share here. A group of German managers and artists wrote an open letter to the major record labels demanding more money as the industry thrives and suggested a movement towards the user-centric streaming model. I wrote a few thoughts on it last year but certainly not the last time I expect to hear about this.
Rolling Stone reported on efforts within the industry to address issues of mental health and substance abuse. What's odd, though certainly not surprising, is that none of these groups mention supporting Medicare For All, which would go much further than creating more niche non-profits. Lastly, the Shed, a recently built "cultural center" in Manhattan just unionized their front-of-house staff with the United Auto Workers, which is cool considering the space has hosted artists like Arca in residency.
6 Links 2 Read
The Right to Listen - The New Yorker
This isn't explicitly about music. However, Astra Taylor is a must-read and her thoughts on the concept of listening are certainly worth considering for those of us whose jobs involve a lot of listening.
Why People Should Take Neil Young's Subscription Success More Seriously - Rolling Stone
The future may be direct artist subscription services. Yes, that's why I wrote about Patreon two weeks ago. And yes, I know M.I.A. started a Patreon last week, which means I hope she's reading this newsletter.
Could an Overhaul of Payola be on the Horizon? Majors Asked to Explain Anti-Payola Practices to FCC - Music Business Worldwide
Payola! Easily my favorite topic within the music business, since apparently no one wants to talk about it! Luckily the buzz is reaching up to the level of the FCC, so I'm very interested in anything that comes of this.
The Story Behind The Palms Casino's Cancellation of Marshmello's Residency and the Closing of KAOS - Billboard
I normally don't include stories about the live music business, but the long journey to explain why Marshmello got $600,000 a night to DJ is worth a read.
The Free Online Mix is a Staple of Electronic Music Culture - Mixmag
A nice little investigation into what may be the final days of free online mix culture. Personally, as someone who loves online mixes, I do think there are a number of ways the future of mixes could go, but I suspect money will be entering the equation.
Musicians Can and Should Organize to Improve Their Pay and Working Conditions - Jacobin
The last piece this week is one that's absolutely close to my heart. Joey, from the band Downtown Boys, wrote an excellent history of American musicians organizing and tied it directly into the current work being done by musicians against companies like Amazon. I've written so much on this history in the last year that it was nice to read someone else's view.