Mild Rumors and Medium Speculation
Hello, I hope you readers are doing well this week. This week is a grab bag of topics despite the fact I've complained about this format before. I think I executed a bit better this week, but maybe I didn't, so feel free to let me know. All criticism, concerns, and comments can be sent to pennyfractions@gmail.com.
---
Curators All Up In Your Videos
Earlier this year I got a couple tip-offs that Austin Kramer, Spotify's Global Head of Dance & Electronic Music, appeared in a music video by the house producers Black Caviar. I thought that seemed funny enough, so I checked out their video for "Coco Puffs" and a couple minutes into the video, there appears Mr. Kramer.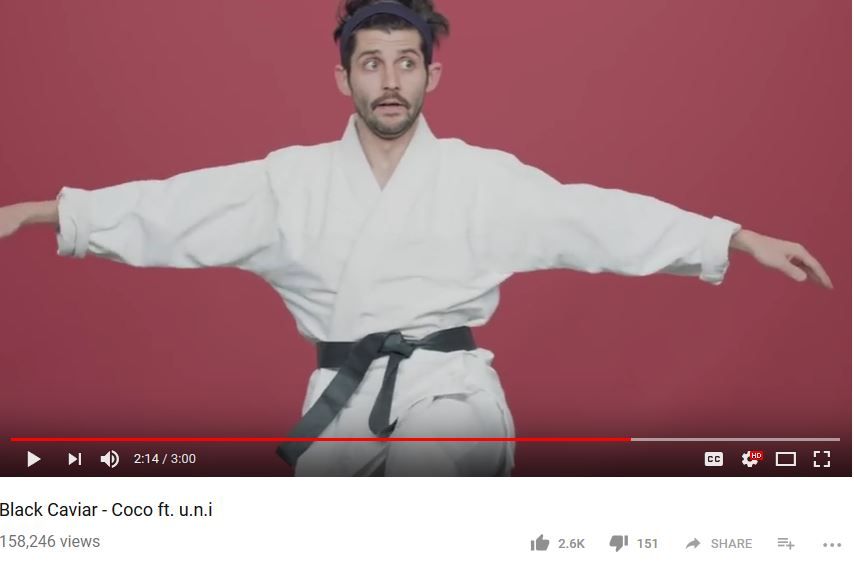 I got a tip off because "Coco Puffs" by Black Caviar appeared to receive some fairly nice playlisting treatment by Kramer. According to Chartmetric "Coco" on November 16, 2017 the song was put on Spotify's most followed EDM playlist mint along with Dance Party, Fresh Electronic, New Electro, and few other official Spotify playlists. The phrase described to me was favor trading in potentially Kramer accepting non-monetary bribes for playlist placement. Of course my mind went to another word of payola, because if a Spotify curator is appearing in a music video by an act they're playlisting that would potentially be breaking some of Spotify's own guidelines around playlist curation.
Earlier this year Spotify went after third party companies that sold access to playlists by  and in 2015 the company update its terms and conditions reported by the Financial Times to reflect a strong anti-payola stance. The updated phrasing said: "selling a user account or playlist, or otherwise accepting any compensation, financial or otherwise, to influence the name of an account or playlist or the content included on an account or playlist."
Does such a policy count against those who actually work within the company's walls. I reached out to Spotify for comment and will update if I get a comment.
(Related if any other streaming platforms curators are appearing in artist videos would love to make a collage.)
SoundCloud Floating To Good Times
Last summer wasn't a great time for SoundCloud. The company laid off 40% of its staff, shut down its London and San Francisco offices, and from the outside appeared to on the verge of collapse. Maybe things are turning around. Earlier this year, the company's current CEO Kerry Trainor told Music Business Worldwide that the company did achieve a few months of cash flow positivity. I heard similar news around cash flow and that the company is even breaking even at this point.
A reason for better news is around users of the platform seeing increased monetization. Purely anecdotal, but before I got the premium version of the platform earlier this summer I was drowning in advertisements in a way I never felt after years of using the platform. Perhaps the uptick in ads and increased usage of the artist side features is leading to higher payout at the moment.
Now the one other trend I've heard directly and even passively noticed is younger acts preparing sooner to make the leap to Apple Music and Spotify. A few years ago artists could, and some certainly still do, completely exist exclusively on SoundCloud; but now it appears acts are more willing to spread their music across platforms, where they know they'll also be paid for their efforts. That necessarily isn't a bad thing. SoundCloud, through its marketing and rise of acts like Lil Pump and Juice WRLD, still rightfully holds a reputation for where artist careers organically begin.
(Obviously the SoundCloud Top 50 charts are dominated by a handful of labels and weird SEO tracks, but let's not ruin the fun)
What I wonder about SoundCloud is how it'll continue to appeal to artists and making sure the next generation of acts don't start splitting time between SoundCloud, YouTube, Apple Music, Spoitfy, etc. Instead of an artist have 10 songs that are exclusively on SoundCloud, their digital discography across platforms starts to look the same. That will slowly just push artists and fans towards the bigger platforms and I'm not quite sure where that leave SoundCloud in the end. Now I'm spinning out a worse case scenario but if artists and labels are seeing more money flow in their direction on other platforms, then that's a concern I'd certainly hold.
I guess this just gets back to the question of how many different apps to people want to use for music consumption. I hop between YouTube Music, SoundCloud, Apple Music, and Spotify, but I can't be norm? Can I? That's why I do think about as increasingly streaming is the default way to consume music people will begin shaking off apps that can't provide unique content. Perhaps that could actually be to SoundCloud's advantage with its endless library of unofficial and hard to find music, perhaps.
Spotify's Swing And Miss on Video Content
I was chatting with Cherie Hu last week and commented on a piece she wrote for Billboard last month. Her article centered on the tech companies all slowly moving towards giant entertainment bundles. However this section stuck to me:
Sources tell Billboard the company made several handshake acquisition deals for scripted TV shows over the last year -- including a music-related series involving Moby and Rashida Jones -- but those deals ultimately fell through. Several years ago, even before Hulu or YouTube launched their own online TV services, Spotify reportedly tried to assemble a proprietary TV bundle for a live video service in Europe, but abandoned the launch after failing to settle on the right price for the offering.
Now I would've loved to have seen the Moby and Rashida Jones buddy comedy, but alas the world wasn't ready for it. Earlier this year I wrote about how every streaming service struggled / continues to struggle with how to make compelling video content in the streaming era. The main point being that these companies are continue to make MTV-era style content that made sense for television, but doesn't make sense in a world where Instagram Stories and Twitch streams exists and access to musicians isn't a limited quantity good. This is where I'll say that Tidal's attempt at doing live music content and even the awkward Kanye West livestreams make a lot more sense of what video content on a music app could me. More interactivity, force fans to be on the app at a specific time. More Twitch, than basic cable.
Now to circle back to Cherie's detail: Spotify trying scripted music content sounds like exact wrong bad idea of misunderstanding what people even want out of video in 2018. Didn't all of Spotify's bad and never seen 2016 tacky video content already prove that? The only video content I've heard do well is the ones that are shoved in between playlists and even then I've never seen any of that content be memed or shared in anyway that would say people were captivated by it.
Apple/Spotify can't offer the freedom of YouTube's endless user generated content or quite compete with the behemoth that is Netflix. (This is ignoring the flop that was 'The Get Down') I'd like to think there is a path less traveled of really honing in an finding the correct niche of how music video content fits into the lives of music fans in 2018? Yet that isn't happening quite yet.
A Small Note on Instagram's New Music Feature
Last month for Music Business Worldwide I wrote about IGTV and Instagram's new feature to include music in stories and how this might impact the...music business. This is a self-critique, because I should've included a couple other facts about this particular Facebook deal that was leaked earlier this year. Digital Music News earlier this year got a copy of what one of the contracts for this agreement and found it very strange how it skewed against independent publishers. The payout for the music is one at lump sum of $45 million for independent artists and the payout isn't per stream, but instead based on market share of publishers. I just wanted to highlight the two odd details of the deal here, because I overlooked it earlier. I also wonder if this deal also extends to the company's rumored Music.ly clone: Talent Show. Gotta appreciate Facebook always gunning for ways to appeal to users that are actually too young to meet the minimum age (13-years-old) to even use its platform.
6 Links 2 Read
The Music Industry Can't Agree With Itself (Even When Congress Can) - Rolling Stone
The headline of this piece should read: Private Equity Group Attempts to Kill Music Industry Approved Bill. The reason I say this is because this isn't a story about greedy labels or rock star musicians, but instead the private equity group who invested in SESAC trying to protect the Harry Fox Agency, who they recently bought, and would adversely effected by this bill. That artists spoke out against SESAC's move here was a bit heartening and I wish the industry could come together more in moments like this where clearly everyone is getting hurt by the decisions of an outside few.
Pop Goes Independent Music - The Media
A nice short essay by Joe Steinhardt about the issues of a post-streaming world on independent artists and small labels that weren't built to profit in this new ecosystem. Essentially music streaming, as a business model, not only favors large labels with huge catalogs, but the current consumption model skews towards single and traditional pop acts, not artists who built careers touring and selling a record every few years. Not a new argument, but this touches a slightly deeper nerve of just how much the industry flipped in a rather short amount of time.
Eying the Streaming Playing Field - Hits Daily Double
This could easily be a whole newsletter because it does appear that the grip that Apple Music and Spotify have over music streaming is loosening. Hits reports that Apple and Spotify are now only 75% of total streams compared to previously 90%. A big reason is that Amazon is now creeping into the market with 9% of total streams. Just as Apple Music and Spotify are solidifying their spaces in this streaming first world, the competition arrives. I'll be keep an eye on if we ever see four or more DSP with over 10% of the total streams market and who stands to actually benefit from increased competition.
After Top Executive Leaves, Billboard Confronts Internal Culture - The New York Times
A follow-up on the fallout of happening at Billboard as executives continue to step down in light of harassment allegations.
With Direct Deals, Spotify Walks a Tightrope Between Wall Street Success & Music Industry Concerns - Billboard
Dan Rys did additional reporting into Spotify's direct deals with artists. This certainly still feels like the early days of the ever evolving relationship between artists, labels, and the companies that control the music delivery pipes.
Why Spotify Faces A Difficult Hardware Conundrum (And So Does Sonos) - Music Business Worldwide
Last for this week is a piece I wrote about Spotify's always rumored hardware prospects and the marketplace fit for Sonos. My rather strong anxiety over either of these companies in the long term competing with Amazon, Apple, and Google certainly shines in this piece, but that isn't to discredit just how well they've done so far over the last decade. It's just a bit concern how they'll compete against companies that control its main product are entering the same market.