Scouring Emerging Rap With Google Trends
Hello everyone, I hope this week is going well. Please forgive me, especially new readers, for being a little more self-indulgent than normal.
This week I wrote for the New Yorker about BlocBoy JB's "Shoot" dance, Drake's #InMyFeelingsChallenge, and the last couple decades of viral rap dances. I'm slightly sentimental over this topic is because back in 2013 for Animal New York I wrote about how Vines of kids twerking helped push Sage the Gemini's "Gas Pedal" and "Red Nose" up the iTunes then eventual Billboard charts. Then for Pitchfork in 2015 I wrote about the #whip and #naenae kickstarting a new wave of Atlanta dances, and I interviewed Silento, of "Watch Me" fame, just as his song was hitting the Billboard charts. The following year I wrote a few thousand words for MTV News about Atlanta's rap dance scene that included SheLovesMeechie and Toosi, who'd both go on to tour with Future. Understandably most of y'all haven't followed all my older work, but I wanted to highlight that trail, as so much of what I report on today is still informed from closely observing niche online music trends.
This week's newsletter is doing a little bit of a breakdown on the current career status of a few teenage Florida rappers. I used to do more of these case study type newsletters when I first started Penny Fractions, so do let me know if you enjoy this. All comments and questions can be sent to pennyfractions@gmail.com.
---
Let's start with a few names: YNW Melly, GlokkNine, and YPB Poody. All three are teenage Florida rappers, who are right now in the early stages of their careers but in the last six months started getting noticeable online buzz. YNW Melly, who is from Gifford, Florida, signed to 300 Entertainment and earlier this month released his debut project I Am You. Next up is Orlando native GlokkNine, who just signed with Cash Money Record after fielding a number of other label offers. Last is LPB Poody, who is currently unsigned but the fact I'm writing about him says he'll probably be signed by the time you're reading this.
Beyond the geographic similarities, all of them are technically strong rappers with both GlokkNine and Poody receiving comparisons to fellow Florida rapper Kodak Black. GlokkNine even wrote a song address that matter called "Talm Bout." Outside of Kodak Black, rap's most recent young stars are all emerging from the sunshine state: Lil Pump, Smokepurrp, Ski Mask the Slump God, and the late XXXTentacion.
Where I wanted to start this dive was with this Google Trends.
Google Trends Graphs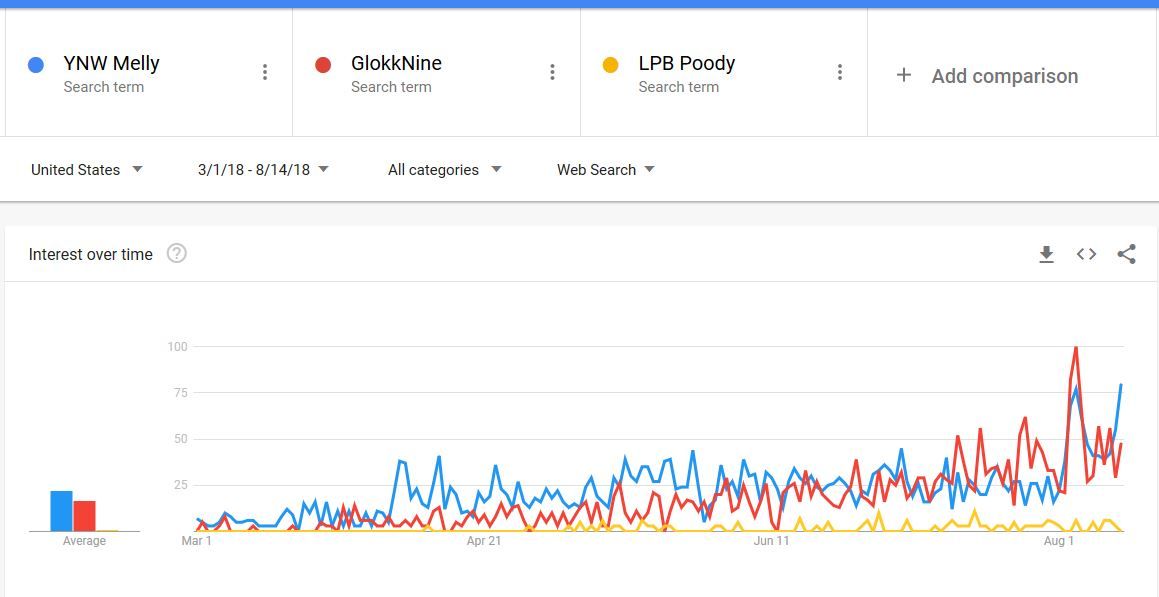 The obvious note is that YPB Poody is very much behind Glokknine and YNW Melly. For that reason, I'll shift focus away from him and back to Glokknine and  YNW Melly. Even though YNW Melly holds a lead in overall search, the two rappers are fairly close to each other in terms of raw search results. In May YNW Melly started to make a bit of separation, but GlokkNine in June reached back up to even occasionally start outperforming his Florida peer. What's most interesting to me is the big spike that happens around early August when Melly released his debut album and on the same day it was reported that GlokkNine signed to Cash Money Records. I don't want to discount the name recognition of Cash Money Records, but I do find it a bit surprising that him signing with a label sparks more interest than Melly putting out a whole new project. So, let's actually look just in the last 30 days, but at the YouTube search.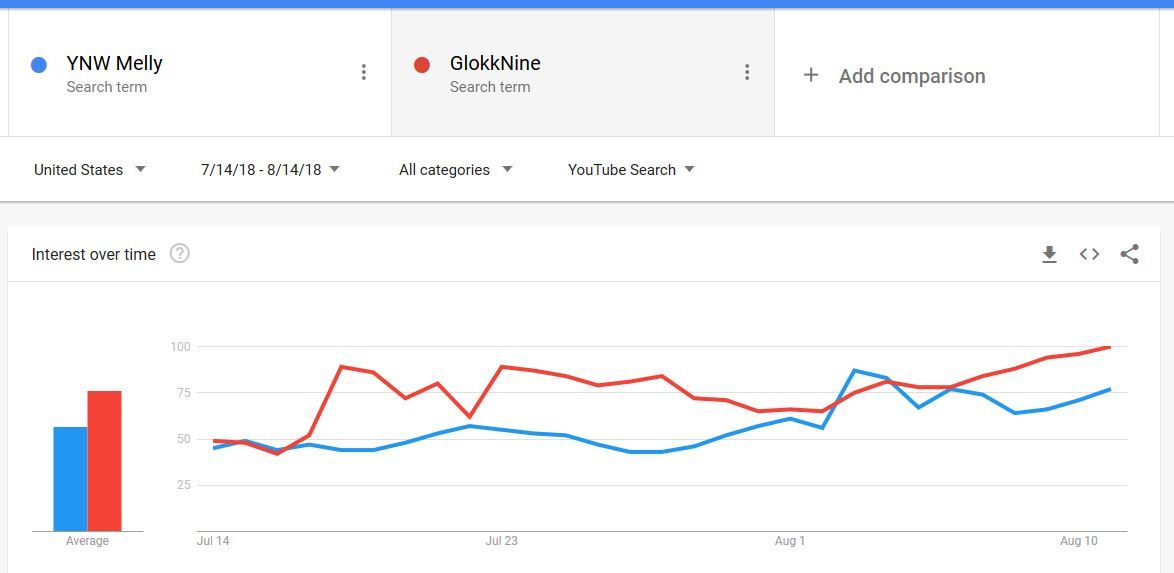 In the last thirty days GlokkNine is outperformed YNW Melly overall except for the release day of YNW Melly's album I Am You. I'll credit that with GlokkNine releasing his most recent mixtape (Loyalty Kill Love) on July 23. Yet, while YNW Melly's YouTube searched started to dip then bump after the release of I Am You; GlokkNine just kept racking up more searches. My gut places that factor on the dual news of a new mixtape and label signing rumors sustaining interesting learning more about the rapper. Where YNW Melly doesn't have multiple news pegs for people to search his name.
Now let's see where people are actually making these searches.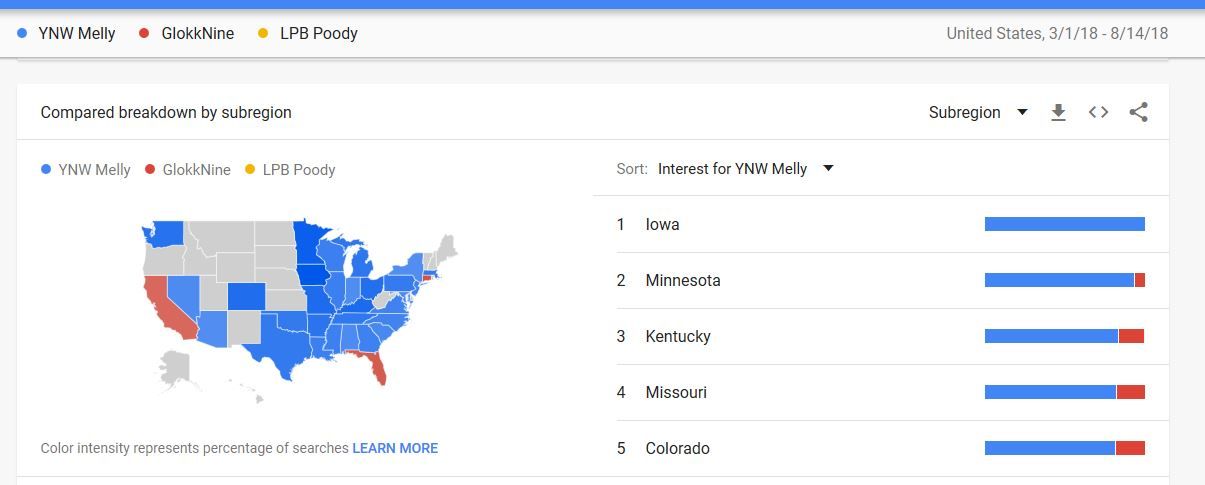 YNW Melly, if there were the electoral college system would be blowing GlokkNine out of the water. There are only three states (California, Florida, and Connecticut (?!)) where GlokkNine is outperforming Melly. Here I'll end with a bit of wild conjecture that GlokkNine doing better in their local state, so earlier in their careers is perhaps a sign that he might have a stronger fan base since his growth is occurring regionally rather than quickly dispersing across the states...but truthfully that's just my gut projecting a lot.
A Brief Closing Note
Originally when I planned to include info-graphics about what playlists these artists appeared. However the only official playlist where you can find a song by any of these rappers right now is YNW Melly on Spotify's Most Necessary playlist. (Though I do remember YNW Melly appearing on some Apple Music playlists in early summer.) Otherwise none of these rappers are getting touched by the magical algorithm fairy quite yet. I'm sure this is a matter of when, not if; still it makes these chart a nice time capsule of a pre-fame moment in their careers.
There weren't many other huge takeaways from looking at these graphs that honestly eyeballing their YouTube views couldn't've told us. But, still I enjoy going a bit deeper in these stats even if a ton of new information isn't gleamed.
6 Links 2 Read
What Is Social Music In the Streaming Age - Music Ally
This is honestly one of my favorite pieces on the broad topic of music streaming I've read in a minute. It repeatedly asks the question: "What exactly is social music listening in this digital world?" Then by the end realizes that perhaps no one yet knows the answer to that question. Thus creating a nice little history of the many attempts to digitize the act of telling a friend you love a band.
The Flourishing Business of of Fake YouTube Views - The New York Times
There should be little surprise that I loved this story in the New York Times that investigated people who sold and bought fake YouTube views. There is a good nugget about how a number of musicians bought fake views but sadly they don't name any names. I've heard accusation of artists buying views, but of course people get quiet once I ask one too many questions. This once again reaffirms my skepticism towards sum total stats as a good measurement of popularity, rather than simple ego boosting.
Dillon Francis Teases His Entire 'Wut Wut' Album Via IGTV - Your EDM
The google alert I set up for "IGTV" certainly isn't going to waste right here. I still haven't seen much compelling content on IGTV but I'm gonna find it hard to not keep some tabs on a platform with over a billion users and is one that nearly every musician in some capacity uses.
6 Questions (and Answers) with CEO Daniel Ek about Spotify and Samsung's New Partnership - Spotify
I don't usually include press releases, even in the form of guise of journalism, for this section but I wanted to make a small exception. This is fairly interesting news for where Spotify's future may potentially be going but I'll hold off on deeper thoughts till next week.
Spotify Is On A Collision Course With The Major Record Companies. Here's Why. - Music Business Worldwide
I. L o v e. D r a m a. Seriously though of course the next round of negotiations between majors and Spotify will be interesting...or maybe better put, the press / leaks / fighting for a certain media narrative around those negotiations will be interesting.
Citi's Music Industry Report, Dissected: What the Financial Giant Gets Right and (Very) Wrong - Billboard
Originally I was going to spend this week's newsletter breaking down this report but about twenty pages in I wrote so many annoyed notes that it didn't feel like it'd be worth it. There was also the fact Billboard kept writing excellent take-downs of Citi's analysis. An aspect of this piece that I really enjoyed was the author Robert Levine pushing back from the Borg Complex that often leads most discussion of the music industry—self included. The nearly twenty year old idea being that labels will eventually crumble and the only thing left will be musicians and distributors.  That isn't to say it can't happen, but why carry an umbrella with no clouds in the sky.