Spotify Wants to Control Audio, Good Luck!
Hello, hello! A little bit of self-promotion before I get into this week's newsletter. Here is the last promotion of my brief Patreon survey and a link to tickets for an event I'm speaking at on May 29th in Brooklyn with the Baffler, hosted by Liz Pelly. Check that out if you're interested! Otherwise, I'm gonna dive into two of my favorite topics: User Interfaces and Spotify. I kid... well kind of.
---
Patreon subscribers will know I planned on covering Spotify's user interface about a month ago, but of course, Spotify dropped a lot of news in this space, which shifted the original direction of this newsletter. My purer, less off-the-cuff, user interface breakdown can be found at these links on YouTube Music, Spotify, and Instagram. So, let's first go over the recent news around Spotify's shift towards podcasts.
Spotify's Quest to Dominate Audio
Last week, the Verge reported a couple of stories that pointed towards Spotify's post-music future. The first story was about the existence of "Car Thing", the name of Spotify's extremely early, U.S.-only, car-specific music player. The company said that the device is for learning about how people use voice devices in the car, and not for immediate commercial distribution. However, the Verge did note that the company trademarked the phrases "Voice Thing" and "Home Thing" just to add a bit more fuel to the fire of that speculation.
Rumors of a Spotify physical device are not new, but this vague product feels a bit like investor focus-grouped vaporware. That's why I'd rather not equivocate and just flatly say there appears to be little, if any, market desire for a Spotify-specific audio device in 2019—car, home, or otherwise. Yet, if such reporting provides the illusion of such company goals to people with money underwriting Spotify, then perhaps that's all the work it needed to do.
Now, the other bit of news from the Verge was far more exciting. Julia Alexander revealed early screenshots of Spotify's new podcast-centered user interface. This piece of news was originally reported by Bloomberg, where the author Lucas Shaw hinted towards the company's longer-term aims:
Advertising accounted for less than 10% of Spotify's revenue in the most recent quarter, and podcasting could raise that proportion in time, helping to turn Spotify into a profitable technology giant like Apple and Facebook Inc.
Spotify's embrace of podcasting has unsettled the music industry. Industry sales have grown four years in a row, and paid streaming services led by Spotify now account for almost half of that figure. Record labels have scrambled to respond. Universal Music Group, the world's largest music company, struck a deal with Wondery Inc. to co-produce podcasts.
Not to throw Daniel Ek's own words at his face, but when the founder said that he'd like millions of artists to make a living off Spotify, I'd like to get a straight answer on how musicians and podcasters could build sustainable careers from a single money-losing company. That claim falls apart even further when top music executives complain in the trade press about falling Average Revue Per User (ARPU). If music executives and, more importantly, artists aren't seeing enough money out of Spotify, then where are podcasters fitting within this fuzzy math? Should podcasters expect that Spotify, similarly to what it's doing to songwriters, will attempt to suppress their wages once the company needs to turn a profit?
Spotify's rising emphasis on podcasts is an explicit attempt to shift listener habits from major label-controlled music towards podcasts, where the money brought in won't simply funnel back towards record labels. (That podcasts are often 10x to 15x the length of a song is simply an added bonus.) It was even reported at the top of May that Spotify was testing the placement of podcasts into listeners' algorithmic mixes. These are attempts to convince their investors that they can shift consumer behavior enough so that they're not constantly underwater thanks to major label content.
If one is an artist or a worker within the broader record label industry, none of this should be good news. If podcasts start to become more popular on Spotify and music listening starts to become a smaller piece of the overall listening pie, then expect to see Spotify's own financials improve, while streaming payouts decrease. And don't be shocked if the marketing arm of Spotify that puts so much money into artists at the moment shifts towards podcasts, where they'll make a much better return on their investment. Okay, let's actually look at this updated app.
The Actual Interface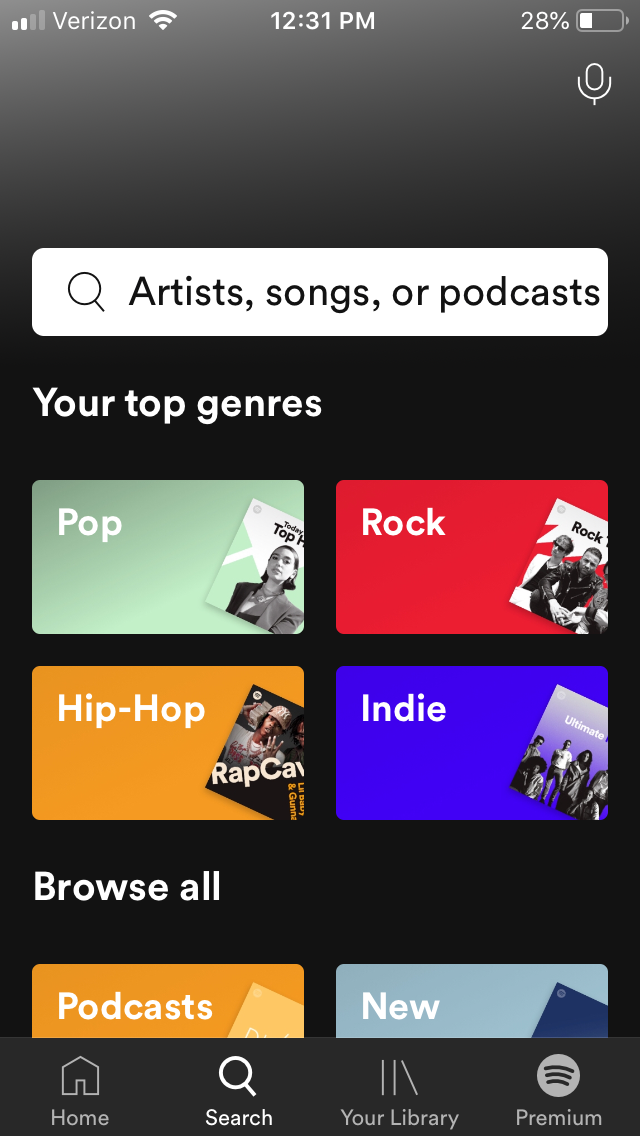 Here is the search screen. The search screen didn't change with the recent update but I wanted to stress how this podcast shift isn't a sudden one. The search bar says "Artists, songs, or podcasts" and when your eyes wander down to "Browse All", the first thing that you'll see isn't "New Releases" but instead "Podcasts". Again, it's hard to imagine how a single company can support the lives of one million artists if the first thing users are prompted to do is check out an entirely separate medium of content.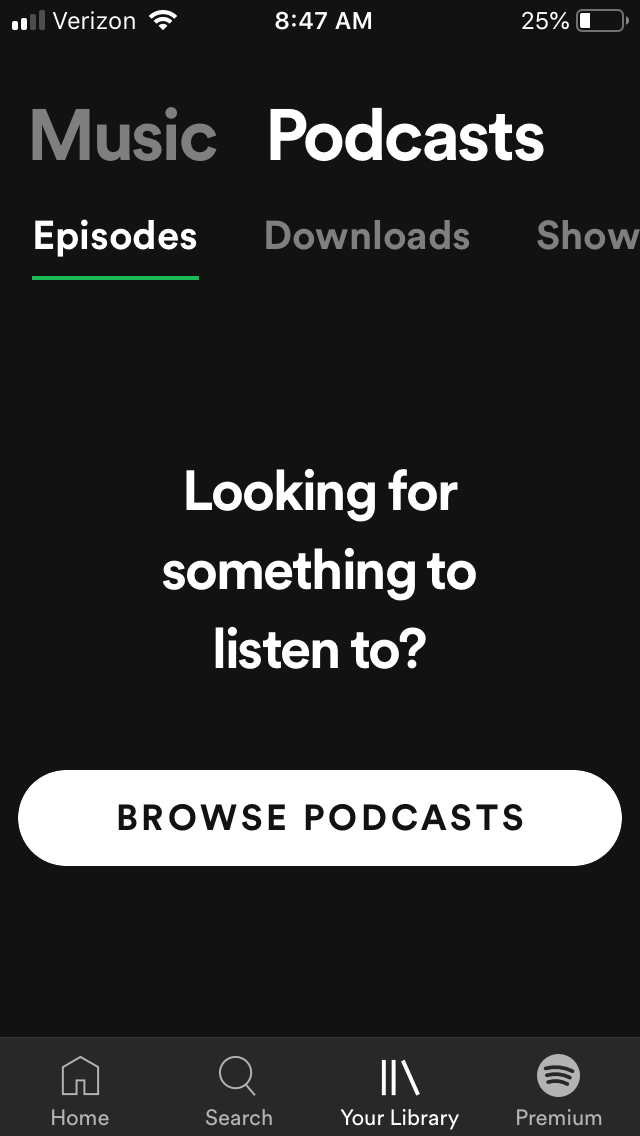 The real change that occurred can be found within the Library tab: "Podcasts" is now given equal billing to "Music". Users can see what shows they've downloaded and liked, and they can browse for new podcasts to listen to. When I woke up on Monday morning I was prompted to see a string of Game of Thrones recaps. I'm a fairly devoted podcast listener but I do not have a particularly strong preference for podcast apps, although I do find Spotify's interface far less overwhelming than Apple's. Still, there is a need for Spotify to shift its marketing and desired consumer behavior from passive music consumption to an active and engaged podcast listener.
That's the odd tension that rests in Spotify's shift in attempting to center the company not around music but rather around audio. Last week, the company put out a blog post encouraging artists to produce shows with Anchor, a podcast creator app that Spotify purchased earlier this year along with Gimlet. There was even a hint towards the fact that artists could see this as an additional revenue stream via Anchor Sponsorships. Yet, it's fairly obvious that artists aren't the ones benefiting from such a system. In the last decade, company after company has proved that advertising-based sources of income mostly only help the top 1% of artists. So why would podcasts on an app with a relatively small userbase be any different? The fragile ecosystem that Spotify has created is already unsustainable for most musicians on the platform, so there's little reason to think that expanding that pool will do anything but further reduce stream payouts.
Unheard Labor
I wasn't planning on doing an Unheard Labor this week, but a little bit of news did break. Yesterday, the Pitchfork Union, which is organizing with the NewsGuild-CWA, tweeted that Conde Nast voluntarily recognized their union. Great news! Hopefully they'll have a smooth road towards their first contract.
Kickstarter which feels like a company I could mention more, considering how many music-related projects were funded through the company. Anyway, the workers there are about to head into a Nation Labor Review Board election, as the company refuses to voluntarily recognize their union. So, the workers will needlessly be required to vote again to say they'd like to unionize. As the kids say: "You hate to see it."
My last note is a little story from Hyperallergic about the union drive happening at the Brooklyn Academy of Music. I'll just say that I'll probably have another one of these next week. For the 8 of y'all that enjoy this section: I'm doing it for you.
6 Links 2 Read
Spotify in India: 'Our job is to grow the market' - Music Ally
I've been pessimistic about Spotify's neocolonial dreams of success in India, so seeing the company struggle to get footing can't be too shocking in these early months.
After Spotify's Launch in India, How Is Its Global Expansion Progressing? - Music Business Worldwide
Short Answer: Not Very Well, Not Very Well At All.
'Fake Artists' Have Billions of Streams on Spotify. Is Sony Now Playing the Service at Its Own Game? - Rolling Stone
Hello Tim. If you're reading this: You're killing it this week. My obsession with the Spotify "Fake Artists" story is partly what inspired this newsletter, so I'll always highlight any update to this neverending tale.
The Economics of Taylor Swift's 'ME!' and Music Videos In the Digital Age - Billboard
It's just nice to see some actually detailed numbers behind the costs of contemporary music videos.
Aimed at Professional DJs, Beatport Unveils Two Subscription Services — Link and Cloud - Digital Music News
My newsletter next week will hopefully cover this a bit more, but Beatport becoming like Spotify is the last thing artists who sell their music on the platform should desire.
Instagram's new e-commerce features could transform music marketing – but only if the record industry is willing to change - Music Business Worldwide
The last piece is Cherie Hu going rather deep into thinking through what Instagram could mean for musicians. Not like it needs another plug, but anyone new to this newsletter please check out Cherie's newsletter!